ESU Senior Nursing Students Participate in Pocono Medical Center Internship Program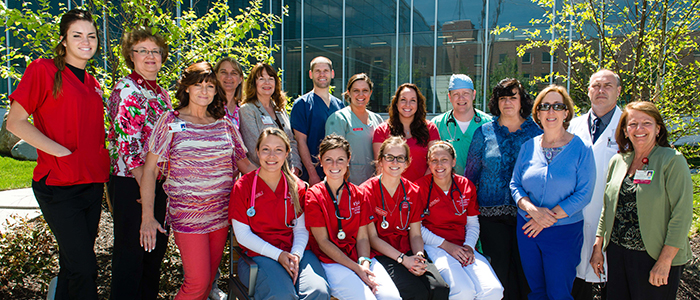 Posted by: admin on August 1, 2013, No Comments
During the final weeks of the spring semester at East Stroudsburg University of Pennsylvania (ESU), seniors from its Department of Nursing participated in an intensive internship program which was implemented in partnership with Pocono Medical Center (PMC). The internship was designed to facilitate professional development and transition new nursing graduates from the classroom into practice. The continuous clinical exposure offered in this internship experience built upon previously attained nursing knowledge and skills. Opportunities for leadership and management development, as well as decision making were also encouraged.
Those involved in this ESU/PMC partnership were, seated, from left: Ingrid Lochner, ESU student, from Colonia, N.J.; Jennifer Melton, ESU student from North Babylon, N.Y.; and Bridgette Gilbride, ESU student from Telford, Pa. Standing from left- Tara Robinson, ESU student from Philadelphia, Pa.; Sharon Sweeney, RN MSN, CCNS, PMC Nursing Education; Kathy Kelly RN, ESU student from Stroudsburg, Pa.; Sharon Nichols, RN, PMC ER; Suzanne Prestoy Ph.D., RN-BC, associate professor of nursing and coordinator of ESU's nursing senior internship; Trevor Achenbach, RN, ESU student from Saylorsburg, Pa.; Briana Shumock, ESU student, from Douglassville, Pa.; Maria Beyer, ESU student, of Whippany, N.J.; Robert Thomson, RN, ESU student, of Albrightsville, Pa.; Laura Waters, Ph.D., RN, chairperson, ESU Department of Nursing; Lori Pierangeli, Ph.D., RN, ESU associate professor of nursing and nursing senior internship faculty; Brian Allen RN BSN, PMC Emergency Services Educator, and Paulette Nish, RN, MSN, PMC vice president for patient care services.
In addition to the PMC partnership, ESU's Nursing department also places interns at Lehigh Valley Hospital on all three of their campuses: Cedar Crest (at Interstate I-78), Muhlenberg (Route 22 and Schoenersville Road, Bethlehem), and 17th Street (Allentown).
The department offers a four-year program of study that leads to a bachelor of science degree with a major in nursing. Registered nurse baccalaureate graduates are prepared to practice in a variety of settings, which may include hospitals, community agencies, and long-term care facilities. For more information about the ESU Department of Nursing and its internship programs, please call 570-422-3474.
---
---