ESU Sport Management Granted Accreditation
Posted by: Elizabeth Richardson on February 22, 2021, No Comments
The Commission on Sport Management Accreditation (COSMA), a specialized accrediting body whose purpose is to promote and recognize excellence in sport management education worldwide in colleges and universities at the baccalaureate, master's and doctoral levels through specialized accreditation, granted accreditation to three East Stroudsburg University programs.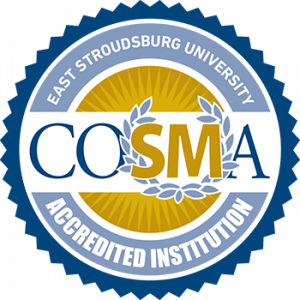 ESU's Bachelor of Science in sport management, Master of Science in sport management and Master of Science in management and leadership with a concentration in sport management have all gained COSMA accreditation, allowing the university to join an elite group of sport management programs. As of February 2021 only 34 universities have COSMA accredited programs. ESU, with its two master's programs, will be the only institution in the state of Pennsylvania to have a graduate program with COSMA accreditation. It will be one of only five undergraduate programs with the accreditation in the state.
"Programs, students, employers, and the general public all benefit from the external verification of quality provided through COSMA's accreditation process," said Jaedeock Lee, Ph.D., associate professor and chair of the sport management department at ESU. "We know this will continue to benefit ESU because of the continuous quality improvement that is encouraged by COSMA's developmental approach to promoting excellence in sport management education."
David Tuchman earned a bachelor's degree in sport management from ESU in 2020. For him, continuing his education at ESU was an easy choice. "I wanted challenge myself to continue to improve in this changing professional environment. I knew East Stroudsburg would allow me to continue to grow from the fantastic experiences I was afforded during my undergraduate education," he said. "With this being the only graduate sport management program in the state to have this recognition, it will show others just how amazing the ESU academic community is." He believes a master's degree from the accredited ESU program will show future employers he is prepared for a career.
The sport management program at ESU became a member of COSMA in 2016 and all three programs were granted accreditation candidacy status in 2018. Since that time ESU has inducted 54 undergraduate and 31 graduate students into Chi Sigma Mu, COSMA's student honor society.
For more information about the sport management program at ESU, contact Dr. Lee by calling 570-422-3340 or email jaedeock@esu.edu.
---
---