ESU Student Teachers Equipped to Discuss Difficult Current Events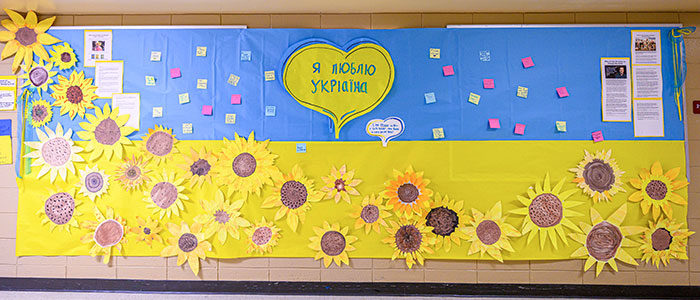 Posted by: Elizabeth Richardson on April 15, 2022, No Comments
There is never a shortage of important current event topics to discuss in a classroom, although the news over the past two years could fill an entire curriculum. Student teachers in East Stroudsburg University's College of Education say they feel prepared to instruct and discuss the most difficult current events with their students thanks to the resources and support they receive on campus and from cooperating districts.
Emily Brennan, a graduate student studying professional and secondary education from Bethlehem, Pa., admits it has been a challenging year for everyone. "Lots of adjustments have been made. Students have had to re-learn how to be in school again, and we've had to re-learn with them," she said. Brennan teaches global studies and American government at Freedom High School in Bethlehem, and discusses a long list of challenging topics with her students. "With global studies, I am presented with a whole host of current topics. Whether COVID or the conflict in Ukraine—you can see some distress in the students. ESU has given us the tools to teach controversial topics in diverse ways. Not every learning style will work with every student. And the diversity at ESU prepared me for diversity in the classroom." Brennan said one of her methodologies is to encourage students to question what they see on social media. "Social media is active in our school. As I'm talking, they're updating me on the conflict in Ukraine, which started on a Friday. We had the weekend, and on Monday I was able to present them with a complete lesson on Ukraine. I wanted to give them the ability to digest what they were saying, and how to discern a credible source from a not-credible source. Most of our students get their information from TikTok, and it led to an incredible discussion. This information is coming at them so hard, and so fast, they don't stop to consider whether it's credible. Having this honest conversation with them helped them see A. how bombarded with information they are, and B. if they make a statement, how are they going to back that statement up?"
Justin Tumulty, a senior secondary education major from Manalapan N.J., is a student teacher of world geography at Bangor Area Middle School. Tumulty's interest in history and current events fuels his classroom discussions. "I've been aware of current events since I was in sixth grade, when my teacher would make us do a current events report of something going on in the world. During student teaching now, I'll show the students CNN 10. I want to show them how polarized our country is today, because it's important to be aware of the politics. From a world perspective, knowing the facts is the biggest thing." He adds, "I like to keep up on current events and what's going on in the world today. I have different alerts on my phone, and students will ask me about them. I find it interesting that students are asking me about current events."
Dr. Nurun Begum, chair of the department of early childhood education at ESU, said the department's student teachers look at current events from a variety of perspectives. "We look at everything in an integrated way," she explains. "We use a holistic and authentic approach to teach different issues. It is in the newspaper, it is on television—it is real, and it's affecting human lives. As citizens, we have a responsibility to handle issues in certain ways." For instance, Dr. Begum cites the conflict in Ukraine, and how pre-service teachers in art class will incorporate sunflowers (Ukraine's national flower) and the now-iconic blue-and-yellow striped Ukrainian flag into bulletin board projects for their students. "In social studies, we will discuss the population of Ukraine, the gender, ethnicity, and cultural backgrounds, and discuss how the conflict is affecting the rest of the population. Now students are looking at their own communities through a new perspective." Dr. Begum points out that students have new awareness of resources and pockets of various ethnic and cultural groups in their own communities; for instance, students are now more familiar with the Ukraine Parish Center in Allentown.
Student teachers are given the tools and support they will need in the field as early as possible. Dr. Brooke Langan, dean of ESU's College of Education, said students are well-versed in both pedagogical and subject knowledge the moment they begin their field practicum. "We make sure they are comfortable. We try to embed professional development beyond what is going on in the classroom for all College of Ed students. Our students are equipped with a mental health series from their sophomore year, which introduces them to subjects related to mental health. The semester before they begin student teaching, students participate in our poverty simulator, another hands-on activity that allows students to experience what it's like to live at or below the poverty level," she explains. "Our Safe Zone training talks about defining LGBTQ+ topics; how to identify and connect with students in an approachable environment. It's important for all of our students—it's not really content-based but so necessary for social and emotional learning. Student teachers have those types of professional development outside the classroom and support of their faculty inside the classroom; they have the support of the co-op teacher in the field. Students are supported—they get a foundation but are supported by field experience teachers."
Begum said the preparation and support student teachers receive at ESU sets them apart. "We use the critical approach to prepare students for the field. That means what students are learning, they are practicing in the field. It's not theory – it's practical application," she said. "They understand they are the ones who are the change agent. Our teachers are highly qualified. Before they graduate, our teachers have 2-3 job offers. The high quality and practical learning they get from our program transforms them from a student to a professional. They graduate as a professional with a job on their hands."
---
---