ESU Student Wins Graduate Student Award at National Conference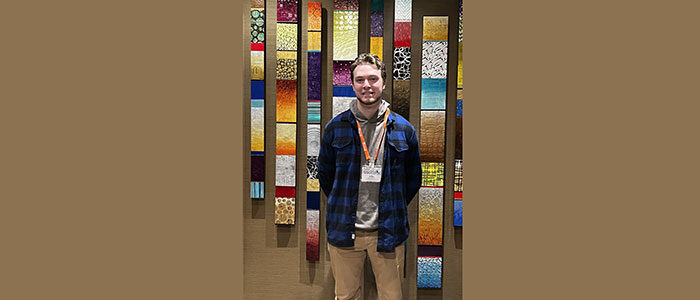 Posted by: Elizabeth Richardson on November 21, 2022, No Comments
East Stroudsburg University associate professor of academic success Kelly McKenzie, Ed.D., along with Michael Quigley, a graduate student studying professional and secondary education from Lakeville, Pa., presented their work "Tutor Training as Professional Development for Experienced Tutors" at the College Reading and Learning Association (CRLA) national conference earlier this month in San Diego, Calif.
Their presentation highlighted an innovative professional development peer tutor training program grounded in an adult learning theory developed by Quigley and Dr. McKenzie. The presentation focused on how the program engaged tutors in discovering and assessing skills they developed during their time as a peer tutor and how those skills translate to a career or advanced degree programs.
During the conference, Quigley was awarded the CRLA Graduate Student Award, which seeks to recognize graduate students who best exemplify the mission of CRLA—providing a forum for the interchange of ideas to improve student learning and facilitate the professional growth of its members. According to the CRLA awards chair, Jennifer Theriault, Quigley received the award because he is "clearly dedicated to student success, which exemplifies the mission of CRLA."
CRLA was founded in 1966 and is the professional development resource of choice for college professionals dedicated to enhancing student academic success. CRLA provides a forum for the interchange of ideas, methods, and information to improve student learning.
For more information on CRLA visit crla.net. For information on the ESU presentation, please contact Dr. McKenzie at (570) 422-3164 or email kmckenzie@esu.edu.
---
---