ESU Students Attend National Security Seminar in Washington, D.C.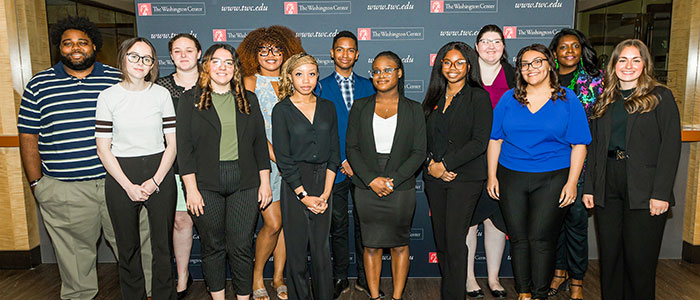 Posted by: Elizabeth Richardson on June 5, 2023, No Comments
Nine East Stroudsburg University students attended the program "Academic Seminar on National Security" through The Washington Center in Washington, D.C. The seminar, which was held May 16-24, gave college students from across the country a more in-depth understanding of the policy, operations, technology and risks surrounding cyber and national security in the United States. Discussions focused on such hot topics as global and domestic threats, prioritizing risks and action, the importance of diversity in national security, and strategic planning and analysis in national security.
Kimberly S. Adams, Ph.D., professor of political science, served as faculty leader for the seminar. The ESU students included Josiline Brown, a junior majoring in middle level education from Tobyhanna, Pa.; Xzy-Naye Campbell, a junior majoring in communication from East Stroudsburg, Pa.; Erin Cook, a senior majoring in history from Wilkes-Barre, Pa.; Lauren Harrison, a junior majoring in political science from Northampton, Pa.; Damali Jackson, a junior majoring in communication from Henryville, Pa.; Kendra Patterson, a freshman majoring in psychology from Stroudsburg, Pa.; John Santana, a graduate student studying political science from Allentown, Pa.; Bridget Snyder, a sophomore majoring in history from Northampton, Pa.; and Favor Toby, a freshman majoring in business management from Folcroft, Pa. The group was joined by Sierra Chandler and Jared Banks, students at Albright College and Yesenia Arias, a student at Arkansas Tech University.
Students spent the mornings on-site at The Washington Center for Internships and Academic Seminars listening to a diverse itinerary of speakers including Kemba Walden, the Acting National Cyber Director for the Biden Administration; Nicholas Schifrin, Foreign Affairs and Defense Correspondence for PBS News Hour; and Dr. Mara Karlin, Assistant Secretary of Defense for Strategies, Plans, and Capabilities at the U.S. Department of Defense. Dr. Adams moderated a discussion with Michael Garcia, Senior Policy Advisor for Cybersecurity and Infrastructure Security Agency (CISA), on the cyber threat posed by China that involved his views on the popular platform, TikTok.
In the afternoons, the group traveled to locations throughout the nation's capital for educational briefings with members of Congress, the White House, the Brookings Institute, and met with other governmental officials. They met with Congressman Matt Cartwright (D-PA), a senior member of the powerful House Committee on Appropriations, and Anthony Acocella, senior legislative affairs advisor to the Director of Homeland Security.
On the final day of the trip the students visited the Executive Office Building of the White House where they met with several of the Vice President's staffers and were given a tour.
"We are pleased to offer students high impact experiential learning experiences, like this Academic Seminar on National Security, that allow students to witness governmental agencies and personnel up close and personal," Adams said. "Such experiences have been found to be a motivating factor for students to excel academically. When students encounter young professionals in high-ranking governmental positions, they begin to envision themselves in those positions."
For more information about the seminar, contact Dr. Adams by calling (570) 422-3924 or email kadams@esu.edu.
---
---