ESU Students Don't Just Study Government, They Run It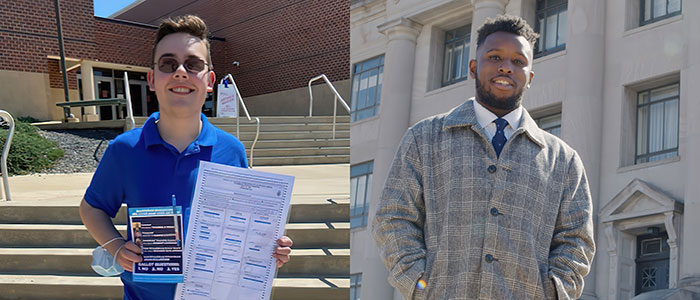 Posted by: Elizabeth Richardson on May 24, 2021, No Comments
When Hafiz Tunis Jr. was appointed to the Upper Darby Council in February 2020 at the age of 23, he was the youngest person ever to serve on the governing body of that township, which has a population larger than the City of Scranton (according to the U.S. Census, Scranton has a population of 76,653.)
To date, Tunis, who studied political science at East Stroudsburg University, has been a driving force in the passage of a township ordinance to decriminalize small amounts of marijuana and is one of the backers of a community center that is expected to be built in 2022.
Meanwhile, Tunis' day job is as director of communications for Pennsylvania State Rep. Margo Davidson who represents the 165th District in Delaware County.
None of this comes as a surprise to Dr. Kimberly S. Adams, Ph.D., ESU professor of political science and one of Tunis' mentors. She recalls telling Tunis: "Young man, you have a gift of gab that most people don't have. You will be fine. You're a natural politician."
ESU junior Jacob Pride was elected at age 19 to the Smithfield Township Board of Supervisors in 2020 and is now its youngest-ever chairman. As a political science major, Pride doesn't just study government and politics, he practices both.
One of his goals has been to help create opportunities for young people in Smithfield to enable more to work locally, rather than commuting daily to New York City. Before the pandemic, more than 20,000 Monroe County residents were commuting to New York City every day.
"Monroe County and the metropolitan area that Smithfield is in has one of the longest commutes in the entire country," Pride said. "Many of my fellow high school students were planning to leave the area and not come back. If people my age were going to stay, I didn't want them to all have to make that long commute."
Recently, the Smithfield supervisors reformed zoning laws to enable greater mixed-use development that should lead to a more walkable community with an increase in local jobs.
Pride is enthusiastic about construction starting this summer for the township's first mixed-use development called Smithfield Gateway, off the Interstate 80 Marshalls Creek exit, which will include retail stores, restaurants, office buildings, apartments, townhouses and condos for seniors.
"It's been a fascinating experience," Pride said of his township work. "It teaches you to reach out to people no matter what."
Pride and Tunis are part of a wave of political involvement and activism by students that ESU and other universities are seeing around the country. Black Lives Matter protests attracted millions of young people in the wake of the murder of George Floyd. Even earlier, the 2018 mass shooting at Marjory Stoneman Douglas High School in Parkland, Florida sparked demonstrations nationwide, with high school and college students among the organizers.
Such activism has translated into record youth turnout at the ballot box. An analysis of youth voting by the Center for Information & Research on Civic Learning and Engagement (CIRCLE) at Tufts University, found that an estimated 50 percent of young people ages 18-29 voted in the 2020 presidential election, up from 39 percent in 2016. CIRCLE believes it was one of the highest rates of turnout since the voting age was lowered to 18 in 1971.
Tunis, whose family is from Liberia and Sierra Leone, says he discovered his passion for politics after meeting Dr. Samuel Quainoo, chair of ESU's Political Science Department, who is originally from Ghana.
"I took his class and it felt like I was home," Tunis said. "Then I met Professor Adams and she really held me accountable in college. She really made you understand who you were and what your strengths are. I remember calling my parents about it and saying, 'I feel so engaged.'"
Local governments are often concerned with the ordinary day-to-day problems citizens face that might seem less exciting than the big issues such as climate change and social justice. But Tunis likes being able to cut through red tape and see his efforts improve lives.
"When a resident calls me, I can go meet them the same day," he said. "I can fix their problem the next day and it's done. With the state and federal government, there's a lot of red tape you've got to go through, a lot of calls, a lot of liaisons."
Early in the COVID-19 vaccine rollout, Tunis was knocking on doors, campaigning for the May primary, and he met some senior citizens who were having trouble scheduling an appointment for the vaccine. He was able to sign them up for an appointment right away.
"They were so grateful," he said.
Dr. Quainoo attributes some of the burgeoning youth involvement — especially for black and brown students — to Barack Obama's presidency. He recalls how excited his young mixed-race son was when Obama won in 2008.
"He saw himself in Barack Obama, he saw someone who looked like him," Quainoo said.
In 2016, Donald Trump galvanized young people on both sides of the presidential race to get involved in the election.  Many students have been inspired by major issues, including global warming and social justice causes.
ESU political science professors take students on field trips to Washington, D.C. and Harrisburg and encourage them to get internships in lawmakers' offices and nonprofit organizations. Several ESU students have gone on to work on legislative staffs.
Dr. Adams, who is on the board of the National Organization for Women, is delighted that some of her students are involved in local government.
"We want to make sure our students understand what it means to be a public servant and we want to nurture their involvement in the process," Adams said. "I am thrilled beyond measure that I can see the fruits of our labor on a daily basis."
Pride, who is majoring in political science with a concentration in public administration, said he's learned a lot from Adams and other ESU political science professors, including Dr. Adam McGlynn and Dr. Cynthia Hamill.
He has gotten used to being the youngest person in the room at Smithfield Township meetings and to navigating the age difference between him and many of the people whose paychecks he signs.
"There were definitely some early bumps in the road, when  someone who might be two, three times my age was taking direction from someone like me," he said. "But I think that through the pandemic, I was able to prove my leadership skills and I have a very good working relationship with everyone in this office."
---
---