ESU Students Get Creative at Crayola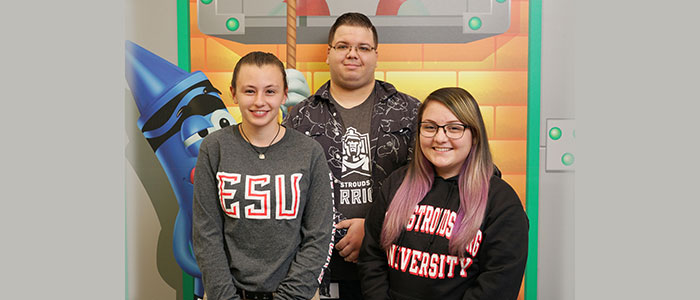 Posted by: Elizabeth Richardson on August 13, 2019, No Comments
At the iconic Crayola company — known for bringing color, creativity and crayons to children everywhere — East Stroudsburg University student Alex Ferraro put her own imagination to work.
Ferraro, a senior from Brodheadsville, Pa., was one of three ESU students who did paid internships at Crayola in Forks Township, Northampton County this summer and after finishing regular work projects she generated inspirational slogans for the Information Technology (IT) department.
With a dual major in computer science and computer security, Ferraro worked largely on data mapping and organization of processes for Crayola, but then left her own mark.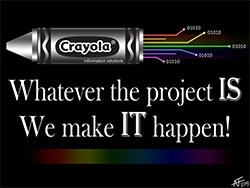 "She has an aptitude for art, for being very creative," said Rachel Laub, an IT business analyst and Ferraro's supervisor at Crayola. "She created a handful of IT mottos. She sent them out to the whole department for everyone to vote on their favorite and we actually had it printed up as a mural and we hung it up as a permanent fixture in our IT department because we loved it so much."
Using abbreviations for "Information Solutions" and "Information Technology," Ferraro's slogan was: "Whatever the project IS, we make IT happen."
For her part, Ferraro loved interning at Crayola.
"They always try to keep their culture colorful and happy all the time," she said. "They make people comfortable. Everybody gets along so well."
She was echoed by Kelsey Tambasco, a senior majoring in business with a concentration in finance and a minor in economics from Tobyhanna, Pa.
"They all honestly love what they're doing and they're very happy to be there and feel they are benefitting kids with what they do every day," Tambasco said. "I learned so much. I didn't think I'd be in as many meetings as I was brought into."
Allison Yenchik, an IT business analyst who supervised Tambasco, said the ESU student was able to complete a mammoth task of templating all the company's contracts and she worked quickly.
"She had quite a challenge ahead of her of having to finish templating all of the contracts that are in the organization, so it was a huge endeavor," Yenchik said.
Matt Gountis, senior from Easton, Pa. majoring in computer science, has also been working with the IT department.
"We're developing solutions, either custom apps or whatever to try to help different parts of Crayola's business function better," he said. "So we're just building and supplying the tools they need to manage their information and their work-flow processes."
"It's right in the lane of my major and what I'm looking to do," he says. "It's not just menial intern work. I'm working on real projects."
Andrew Willis, a SharePoint Analyst for Crayola, said he and Gountis' other supervisor, Natalie Purpura, found him to be an eager and quick learner.
That "allowed us to keep feeding him more and more different tasks" so Gountis ended up doing computer programming and custom work for the company, Willis said.
Those are the kinds of experiences that make internships so valuable, according to Douglas Friedman, Ph.D., associate professor of business management and Tambasco's faculty adviser. Other students of his have interned at Crayola.
"All of our students have had positive experiences at Crayola," Dr. Friedman said. "They learn a lot. They find people at Crayola to be very helpful."
Internships are important for several reasons, he says. Students gain experience in their field and become more motivated when they see how what they learn in the classroom can be used on the job. And, in some cases, when students graduate, they are offered jobs at the company where they interned.
"It also helps because they get experience so even if they're not going into exactly the same field, a future employer is going to look on that favorably," Friedman said.
ESU is one of approximately 10 universities and colleges in the region that Crayola partners with to recruit interns. Last February, Debbie Couchman, the computer science department secretary, sent out an email blast to students in the department about the summer internship opportunities and about 20 students applied for the three slots available for ESU students at Crayola. Company representatives interviewed students at the campus Innovation Center in the spring and selected Tambasco, Gountis and Ferraro.
For many people, the name Crayola is synonymous with crayons but the Lehigh Valley-based company also sells a wide variety of art tools, crafting activities and toys that inspire imagination and creativity. A company of Hallmark Cards, Inc., Crayola also runs the popular Crayola Experience in Easton, which offers creative kid-friendly activities.
---
---