ESU Students Present Research at Capitol in Harrisburg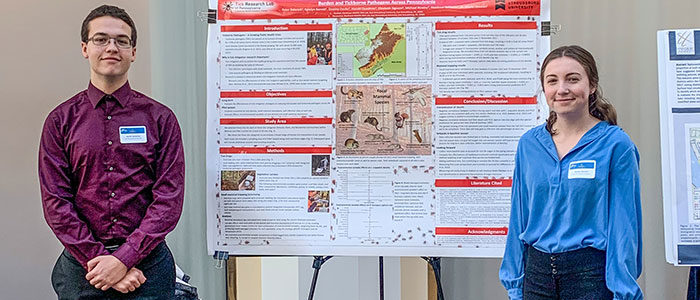 Posted by: Elizabeth Richardson on March 8, 2023, No Comments
Photo: Harold Quadrino and Katelyn Barrett stand next to their research poster during a presentation at the Capitol in Harrisburg on Tuesday, March 7.
Two East Stroudsburg University students participated in Undergraduate Research at the Capitol – Pennsylvania on Tuesday, March 7.
Katelyn Barrett, a freshman marine science major from Mountville, Pa. and Harold Quadrino, a sophomore biology major from Dingmans Ferry, Pa. presented a poster on their research "Evaluation of an Orally Delivered Anti-Tick Vaccine Targeting Mammalian Zoonotic Pathogen Reservoir Populations in Pennsylvania." The research project, authored by Barrett, Quadrino, Peter Babcock, a senior biology major from Mechanicsburg, Pa.; Destiny Devlin, a senior marine science major from Quakertown, Pa.; and Elizabeth Signore, a graduate student studying biology from Lansdale, Pa; collected baseline data on adult blacklegged tick density, small mammal host abundance, and habitat variables. The results, and future assessments will provide a baseline for future comparisons of ticks and host abundance following application of mitigation practices.
Undergraduate Research at the Capitol – Pennsylvania is a poster conference that showcases outstanding and award-winning research projects by undergraduate students from Pennsylvania. The event provides an opportunity for students, faculty, and Pennsylvania legislators and staff to share the experiences of student engaged research in scholarship at their colleges and universities.
---
---