ESU Students, Professor, Collaborate on New Card Game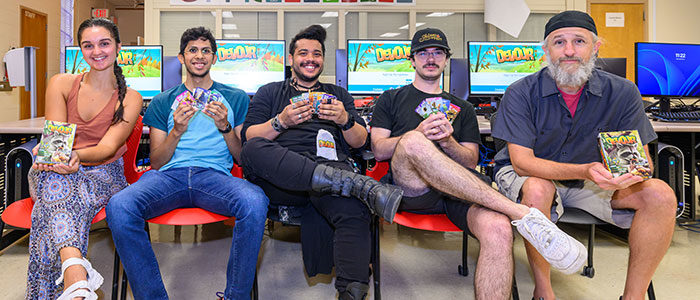 Posted by: Elizabeth Richardson on September 13, 2022, No Comments
Photo from left to right: Erin Rodriguez, George Pineda, BJ Holloway, Zack White, David Mazure Not pictured: Kelly Lanigan and Ryan Ruggiero
Games of all kinds enjoyed something of a renaissance during the COVID-19 pandemic. In fact, the lengthy lockdown provided the impetus for a new card game. David Mazure, ESU professor of art + design, assembled a creative team of students to help bring his idea for Devour, a new card game, to life.
Based on the classic card game War, Devour focuses on the predator-prey relationship found in nature. "During the months at home, I was kind of sitting around twiddling my thumbs," Mazure said. "When my daughter, who is now 12, was four or five years old, she loved playing the game War. We thought we'd do the same kind of game with animals, and we had the time to do it. My daughter goes to a school that has a real focus on environmental sustainability, and my family has a love of gaming, so it all came together. I approached my family and said, 'Why don't we start doing this?' We started really during that first summer of COVID and it's been in constant development ever since." The game comes in three different modes, as Mazure explains: "There is a two to three player battle version, a solo mode that is a completely different game which you play by yourself, with a 30-scenario storyline in solo mode, and a 2-player strategy game, so it's really a 3-in-1 game," Mazure explains. "The first mode is Devour: Prey, the solo mode is Devour: Forest Floor, and the 2-player abstract strategy is Devour: Outfoxed."
Mazure asked other professors to recommend students to work on each element of the project. The final group of designers and developers consisted of ESU graduate George Pineda '21; Kelly Lanigan, a graduate student studying professional and digital media writing from Woodbridge, N.J.; Ryan Ruggiero, a senior majoring digital media technologies from Warrington, Pa.; James "BJ" Holloway, a junior majoring in integrated art and design from Damascus, Pa.; Zachary White, a senior majoring in integrated art and design from Fountain Hill, Pa.; and Erin Rodriguez, a senior majoring in computer science from East Stroudsburg, Pa. Holloway is responsible for the 3D models for the game pieces. "Right now I'm working on the second model for the game," he said. "Professor Mazure wanted game tokens for character interaction." Holloway studied product design and graphic design with a specialty in 3D printing and modeling. "It takes about 10 to 20 hours to finish a model. The first model took 15 hours, plus the revision work," he said.
Pineda is creating all of the illustrations for the game cards. With all revisions, he's completed a total of about 60 illustrations so far. "I'm just hoping for success. I'm really glad I have these illustrations under my belt. I'm looking forward to playing when it's finished – my friends and I like tabletop games," he said.
Lanigan was the writer for the solo version of the game. "I wrote what is going to be the literal text of the game, not the mechanics. I assisted in writing specific textual aspects of the game and then proofreading other aspects," she said. White is taking all of Pineda's illustrations and adding animation. He also researched notable gamers and YouTube influencers to help spread the word about the game. Ruggiero is the product photographer. He'll take photos of each portion of the game to use in digital marketing and advertising campaigns.
Working on a project this unique in scope was a first for everyone. Each member says it was a positive experience, both personally and professionally. "Like any project you work on, you hope it becomes successful," Lanigan said. "You hope it becomes something big so you can point to it when with friends and say 'look, this is the project I worked on!' I hope to be able to point my name to the credits and proudly say 'I helped make this successful'."
Holloway learned valuable skills throughout the game development process and had the opportunity to use Blender, one of his favorite open-source software programs. "Every time I take on a modeling job for a client, I am forced to learn a new skill, whether it's rigging, sculpting, or something geometrical. With this project I had to learn how to do a lot of detail sculpting. I start with a low-res model. Professor Mazure sends me George's concept art and I have to make it into a 3D model. I had to learn a lot of sculpting techniques to make the models very detailed," he said. The project was also Holloway's first exposure to being an entrepreneur. "I had to learn how to write my first contract and invoice, so there was also learning the money management side," he said. "It was a great experience."
Pineda improved his time management and communication skills. "I learned a lot about having to communicate to stay on top of things – taking it step by step with each part and talking about it. I'm also finishing my illustration thesis. I used to start a lot of things but not finish them, but now I have to finish a lot of things."
White said, "I never knew how to do animation or stop motion design. I got involved because I was practicing animation and someone recommended me."
With the project in its final stages, the next step is getting it out into the gamer universe and general public. Mazure has created a social media campaign to help generate some initial buzz, the game has a website and newsletter, and the team is sharing the information on their personal pages. Mazure also plans to launch a Kickstarter campaign this fall to offset costs for expenses like manufacturing the game itself, marketing, and other elements of production. His goal is to raise $10,000. "I've loved creating the game. I loved designing the cards. There were certain aspects that were more work than I expected them to be, but we did what we always do – jumped in, figured it out, and got it done," Mazure said. "I learned a lot about how to start my own business, apply for copyrights, do social media marketing. My wife does social media marketing as a freelancer so she was a big help there. Part of why I did this is because I'm teaching a class in art + design entrepreneurship in spring 2023, so this was a really good experience." Besides raising the funds to produce the game, he has two long-term goals: "First, to get it into schools because the 2-4 player mode is a didactic experience that teaches anyone about predator/prey relationship in our area of the Northeast U.S. It is more fun than learning. Second, to make enough money to make the next version of this – probably Desert Devour focused on the Southwest U.S. I have a lot of ideas and will probably do ocean after that," he said.
Collaborating with students made the whole experience even more special. Mazure said he tries to involve students with his projects whenever possible. "When I was a grad student I worked with professors and got great experience. I've always been an experiential learner. That's just part of my teaching philosophy. It's always a joy to work with students. They are always eager to learn and help out in any way they can."
To learn more or sign up for the newsletter, visit devourcardgame.com.
---
---