ESU's Autism Education Center wins John Wilson Memorial Award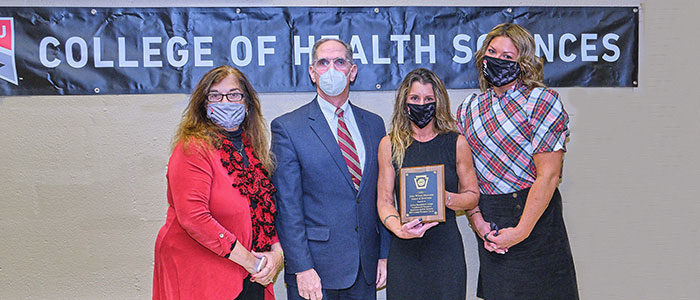 Posted by: Elizabeth Richardson on December 10, 2021, No Comments
East Stroudsburg University's Autism Education Center was honored with the John Wilson Memorial Award of Excellence during the Pennsylvania Council for Exceptional Children (PaCEC) annual conference in October. Due to COVID-19 restrictions, faculty were not able to attend, and so on December 9 a small ceremony was held on ESU's campus. Dr. Gina Scala, professor and chair of the special education and rehabilitation department, represented PaCEC and presented the award to Dr. Rachel Wolf, associate professor of communication sciences and disorders and director of ESU's Autism Education Center, and Dr. Rachel Chapman, coordinator of the ESU Autism Education Center.
The award, named in memory of Dr. John Wilson, a lifelong special education professional and exceptional member of PaCEC, recognizes an educator, parent, organization or institution that represents the contributions of Dr. Wilson, educating children and youth with exceptionalities and/or gifts and talents.
ESU's Autism Education Center was selected as this year's award recipient because of the extensive programing and resources the center continued to offer during the COVID-19 pandemic. "Many places were only able to do the very minimum during such challenging times," Dr. Scala said. "ESU's Autism Education Center continued to be a leader in engagement. They have earned this honor."
For more information about ESU's Autism Education Center visit esu.edu/autism-education-center or contact Chapman at (570) 422-7950 or email rchapman@esu.edu.
---
---