ESU's Eighth Annual Economic Outlook Summit Goes Virtual on December 15 – Register Today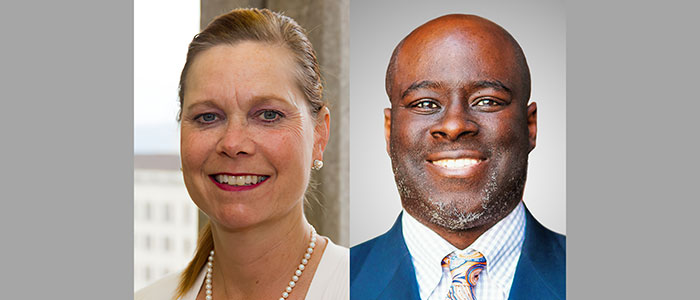 Posted by: admin on December 8, 2020, No Comments
East Stroudsburg University will hold its annual Economic Outlook Summit on Tuesday, December 15, 2020 from noon to 1:30 p.m. The theme of this year's virtual summit is "Pocono Pride, Promise, Progress," intended to focus on the economic indicators within the four-county Pocono Region – Monroe, Pike, Carbon and Wayne counties. There is no cost to participate in this year's summit; however, all participants must register online at esu.edu/econsummit in order to receive the link to attend using the Zoom platform.
"While we may not be in person for this year's Economic Outlook Summit, the event will focus on the events of 2020, especially the COVID-19 pandemic, and how they've affected the regional economy," said Mary Frances Postupack, ESU's vice president for economic development and entrepreneurship and summit organizer. "This year's summit is more important than ever as we collectively explore the data to strategize how our Pocono Region can recover and rebuild our economic foothold in the Commonwealth."
This year's summit will feature two keynote speakers – Dr. Wendy Braund, MD, MPH, MSEd, FACPM, the COVID-19 response director for the Pennsylvania Department of Health, who will address the "COVID-19 Update from the Pennsylvania Department of Health" and Frank Robinson, MBA, director at Econsult Solutions, Inc., a firm that assists clients in the evaluation of economic and fiscal outcomes of programs and developments. Frank Robinson will discuss " Resiliency During COVID-19."
Wendy E. Braund, MD, MPH, MSEd, FACPM serves as the COVID-19 response director for the Pennsylvania Department of Health. Previously, she was the director of the Center for Public Health Practice, associate dean for Practice, and a professor of health policy and management at the University of Pittsburgh Graduate School of Public Health. Prior to her time in academia, she served as the Wyoming state health officer and Public Health Division administrator for the Wyoming Department of Health. Before working at the state level, Dr. Braund was employed by the U.S. Department of Health and Human Services, first in the Office of the Assistant Secretary, Office of Disease Prevention and Health Promotion, and then at the Health Resources and Services Administration, Bureau of Health Professions.
Dr. Braund's degrees include a BA from Duke University, MSEd from the University of Pennsylvania Graduate School of Education, MPH from the Johns Hopkins Bloomberg School of Public Health, and MD from the Penn State College of Medicine. She is a 2007 graduate of the Johns Hopkins Bloomberg School of Public Health Preventive Medicine Residency Program and is board certified in Public Health and General Preventive Medicine. She is a fellow of the American College of Preventive Medicine.
With expertise in the area of economic development, Frank Robinson has spent more than 18 years working with corporate, government, nonprofit clients, banks and credit unions as well as community development financial institutions and small businesses. Robinson has extensive experience articulating primary objectives for strategic plans, pursuing federal grant opportunities, construction management, business expansion and sustainability planning, and launching new programs. He has also written and managed over $40 million in federal grants/programs; assessing, planning, improving, reporting, and presenting to high-level boards and governing bodies along the way.
A graduate of North Carolina A&T State University with a degree in political science, Robinson also earned an MBA with a focus on economic development and a Master of Divinity from Westminster Theological Seminary. He also holds several certifications including one in low-incoming housing tax credit management and development and another on faith-based initiatives.
In addition to the keynote speakers, the 2020 Economic Outlook Summit will also feature four videos each devoted to a specific topic as it relates to the Pocono Region: Year in Review, Pocono Pride, Pocono Promise and Pocono Progress. Further, there will be a presentation from each of the county commissioner chairs for Carbon, Monroe, Pike and Wayne counties: Wayne E. Nothstein of Carbon County, Sharon S. Laverdure of Monroe County, Matthew M. Osterberg of Pike County, and Brian W. Smith of Wayne County – and remarks from ESU interim president Kenneth Long.
"This is ESU's eighth annual Economic Summit, and even though it's virtual and participation this year is free of charge, the event just would not be possible without the support of our sponsors and partners," added Postupack.
Current Summit sponsors and partners include: Northeastern Pennsylvania Alliance (NEPA), which compiled the data for the Economic Scorecard; Pocono Mountains Visitors Bureau; Blue Ridge Communications TV-13; George Roberts Productions; Pocono Mountains Economic Development Corporation; Carbon Chamber and Economic Development; Pike County Economic Development Authority; Wayne Economic Development Corporation; the Pocono Record; Pennsylvania CareerLink and the Monroe County Bar Association.
To register for the 2020 Economic Outlook Summit, visit esu.edu/econsummit. For more information, contact the office of Economic Development and Entrepreneurship at 570-422-7920.
2020 Virtual Economic Summit Agenda
12:00 p.m.: Video Year in Review – Carbon, Monroe, Pike and Wayne Counties
12:05 p.m. Opening Remarks – Kenneth Long, Interim President, East Stroudsburg University
12:10 p.m.: Keynote Speaker – Dr. Wendy Braund, Covid-19 Response Director, Pennsylvania Department of Health
12:30 p.m.: Video – Pocono Promise
12:35 p.m.: Keynote Speaker – Frank Robinson, MBA, Director, Econsult Solutions, Inc., Scorecard Data Presentation/Covid-19 Economic Indicators
12:55 p.m.: Video – Pocono Progress
1:00 p.m.: County Commissioner Chairs – Carbon, Monroe, Pike and Wayne
Topic: Covid-19: Challenges Faced, Lessons Learned.
What's Next? Carbon: Wayne E. Nothstein; Monroe: Sharon S. Laverdure; Pike: Matthew M. Osterberg; Wayne: Brian W. Smith
1:20 p.m.: Closing Comments – ESU President Long
1:25 p.m.: Video – Pocono Pride
---
---