ESU Hoods Doctoral Students in Ceremony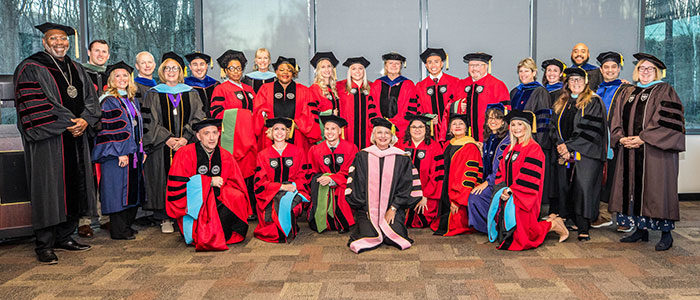 Posted by: Elizabeth Richardson on December 13, 2022, No Comments
East Stroudsburg University of Pennsylvania celebrated eleven students who defended their dissertations in a doctoral hooding ceremony on Friday, December 9. The hooding ceremony celebrated candidates who received degrees Doctor of Education and Doctorate of Health Sciences degrees.
The candidates for the Doctor of Health Science were
Nicole Chinnici is the laboratory director at the East Stroudsburg University Dr. Jane Huffman Wildlife Genetics Institute. As the laboratory director, she has secured annual state funding to launch the PA Tick Research Lab which offers free tick testing to all PA residents. In addition to her role as the laboratory director, she is an adjunct professor at ESU teaching Microbiology Labs and at the University of Florida teaching Advanced Genetics for Wildlife Forensics. Chinnici has several scientific publications pertaining to ticks, tickborne diseases and wildlife forensics. As a Certified Wildlife Forensic Scientist, she serves on the National Board for Wildlife Forensics developing and optimizing standards used by all wildlife forensic laboratories. Outside of work, she is busy with her two businesses Organtick, an all-natural tick repellent, and CrossFit Geronimo. In her free time, you can find her on the golf course or enjoying time with her family and two dogs.
Mary Ann Drosnock is the director of clinical affairs at Healthmark Industries, where she leads a team of clinical educators with expertise in device processing and infection prevention. Drosnock is a well-known speaker at professional society meetings nationally and internationally on endoscope processing and infection prevention topics. She served as co-chair of AAMI Working Group 84 for ST91 from 2013 to 2021. Before Healthmark, she managed the infection control program for Olympus, worked as a pharmaceutical microbiologist, and taught Microbiology courses at the college level to healthcare professionals. Drosnock has a B.S. in biology from Albright College and an M.S. in quality assurance and regulatory affairs from Temple University. She is certified in Infection Control and Endoscope Reprocessing and is a Fellow for APIC and AAMI. Drosnock has been married to Daniel Drosnock for 23 years and has three children, Bobby, Mary and Emily. Together they are raising three Weimaraner dogs, six cats, six chickens, and six ducks. The family also owns a farm and the oldest travel agency in Pennsylvania, Emanuel Travel Service. They live a happy and active life full of fun and love!
Elizabeth C. Otieno-Bryant is married and has three children. She started her education in the U.S. in 2004 at Northampton Community College where she graduated with an associate degree in social work in 2006. While at NCC, she attained a certificate in leadership program which was funded by the MET Foundation, which prepared her to be a leader in her community. She graduated from East Stroudsburg University with her bachelor's degree with a concentration in community health in 2008, and received her master's degree in public health (MPH) in 2010. She was inspired to return to ESU to pursue a doctoral degree in health sciences with a concentration in health management and administration in fall 2019 after a life changing event that occurred in her life and family. Otieno-Bryant began her employment with the Lehigh Valley Health Network (LVHN) as a community liaison in 2019, transitioned to comprehensive health services (formerly known as aids activity office) and is currently a medical case manager. She is also the Founder of John Agutu Abando Charitable International Organization, Inc (JAACOI) and chief executive officer of Community Resources for Human Services, L.L.C in Bethlehem, Pa. She served as the chairlady of the Kenyan Community in the Northeast (K.C.N.E.) a non-profit Organization in Allentown from 2015 to 2021 and continues to serve as a board member.
Christopher Rossi was born on January 5, 1977, during the Blizzard of 77 in Buffalo, N.Y. His education includes a Bachelor of Science in athletic training from Canisius College in 1999 and Master of Science in physical education from East Stroudsburg University in 2000. Rossi began working for the East Stroudsburg Area School District in 2000 as the head athletic trainer for the newly opened East Stroudsburg North High School. Still with the East Stroudsburg School District, Rossi now serves as district director of athletic training. He also currently serves as a preceptor to ESU student athletic trainers, doing so since 2000. Rossi is an instructor for the American Heart Association in AED/CPR and first aid, Stop the Bleed, and ConcussionWise. His family includes wife Melissa, two children Arianna and Vincent, parents Mario and Karen, and brother Dan. Rossi currently resides in East Stroudsburg.
Laura Suits-Dolan is the interim director of health and wellness at East Stroudsburg University, assisting with various public health needs on-campus. Suits-Dolan has started many initiatives at ESU such as the COVID-19 vaccination clinic and surveillance testing for the ESU community, the Condom-Gram, and collaborated with Lehigh Valley Health Network-Pocono to host the Annual Pink Light Walk. She has received funding through several grant opportunities to aid health promotion on campus. Suits-Dolan prides herself on being an ESU Warrior, as she completed all of her degrees at ESU and was a pitcher for the Warriors' softball team from
2010-14. Aside from her work, she is an avid crafter and enjoys spending time with her two dogs, Miley and Lager. Suits-Dolan met her now husband, Sean Dolan, while both attended ESU as undergraduates.
Mark Takacs is from Easton, Pa. and attended East Stroudsburg University for all three of his degrees. Takacs has been employed at Bloomsburg University as an instructor in exercise science since August 2018 Takacs recently accepted a tenure track position at DeSales University in the Sport & Exercise Physiology Department beginning in January 2023.
Luis Torres currently serves as an assistant professor within the Department of Exercise Science and Physical Education at Montclair State University in Montclair, N.J. and as a sports safety program educator for the Hospital for Special Surgery. He also holds a M.S. in athletic training from East Stroudsburg University and both a B.A. in psychology and a B.S. in athletic training from Montclair State University. Torres is also a licensed and certified athletic trainer and a certified personal trainer, behavior change specialist, and corrective exercise specialist through the National Academy of Sports Medicine. He currently resides in northern New Jersey with his fiancée, Ashley, nearby his family and friends.
Andrea Wilson grew up in a very close-knit community in Guyana, South America. As a high school teacher of English, she implemented a community reading room and provided out-of-school time programs that included elements of the arts such as dance and poetry. She relocated to the island of St. Lucia and became head of department – English at a high school built specifically to inspire and support students from a low-income, high gang activity neighborhood. Wilson immigrated to the U.S. and obtained her master's degree from Seton Hall University. She also became a Certified Medical Assistant and worked in urgent care and surgical settings. She is currently the education director at Casa Guadalupe Center, a nonprofit organization that provides extensive support for underserved families in Allentown, Pa. Wilson resides in Phillipsburg, N.J. with her extremely supportive family, including her two children, Montell and Alazniae, and their dog Apollo.
The candidates for a Doctor of Educational Leadership and Administration were
Nicholas D'Angelo was born and raised in Newark, N.J. He received an M.F.A from Cranbrook Academy of Art in Bloomfield Hills, Mich. He creates work in a variety of media including graphic design, painting, mixed media, film and poetry. Currently, D'Angelo teaches digital design at East Stroudsburg University. He resides in West Orange, N.J.
Gina Finnerty has been in education since 1994. She started her career as a Spanish teacher, advanced to an assistant principal at the middle and high school levels, and has served as a building principal since 2010. She currently resides in Lower Saucon Township, Pa. with her husband David, and three children, Anthony, Owen, and Olivia. She earned a Bachelor of Arts degree in education from Cedar Crest College, a Master's of Education degree from East Stroudsburg University, and a Master's of Science degree in human resource management from Villanova University. She is grateful to her professors, family, and friends for their unconditional support throughout her career.
Kelly Weaber has returned to her hometown and resides in Lebanon, Pa. with her husband, Mark, an IT engineer, and her two sons, Jayden and Jack. Jayden is a first-year student at Penn State-University Park while Jack is in his final year of high school. Weaber 's daughter, Alyssa is employed as a registered nurse in pediatrics. Weaber has worked in higher education since 1998 and is currently employed at Penn State-Harrisburg as an assistant director in student affairs, where she provides oversight to the Office of Student Care and Advocacy and Residence Life. Earning this doctoral degree has been a dream and a true example of determination.
For more information about the doctoral program, including applying for admission/acceptance, contact Kevin Quintero, associate director of graduate and extended studies at (570) 422-3890 or kquintero@esu.edu.
---
---