Five ESU Students Participate in Annual Pennsylvania Intercollegiate Band Festival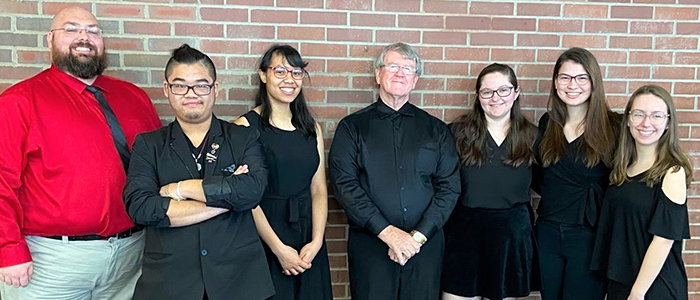 Posted by: Elizabeth Richardson on March 10, 2020, No Comments
Five members of East Stroudsburg University's Warrior Bands program, along with director Brian Hodge, attended the 73rd Annual Pennsylvania Intercollegiate Band Festival held February 28-March 1 at California University of Pennsylvania.
The ESU band members joined select musicians from 21 colleges and universities across the state for three days of intensive rehearsals under guest conductor Dennis Fisher, wind band director and professor emeritus from University of North Texas, to present a challenging concert program on the final day.
"This was my second time going to the festival. It's interesting to learn the different styles that other musicians use," said flutist Amanda Kalberer, a sophomore majoring in elementary education and early childhood education from Swiftwater, Pa.
"Returning to the festival has allowed me to pursue one of my goals as a musician—to improve my auditioning skills," Kalberer added.
For horn player Jamee Haney, a sophomore majoring in English and philosophy from Easton, Pa., a first-time festival participant, the highlight of the weekend was playing the technically difficult work, The NSB Millennium. "Dr. Fisher was a really good conductor to work with and, after only three days rehearsal, we really blended well as an ensemble."
Another first-time participant, percussionist Michael Shen, a sophomore majoring in communication from Stroudsburg, Pa., got a shout out from the conductor during rehearsal for his performance on the snare drum.
"The festival has done a lot for me as a musician and a person," Shen said. "The music was challenging, but tons of fun. I learned a lot, made new friends and I'll be working harder so I can go back next year."
After trying twice, oboist Claire Glackin, a senior majoring in history from Fawn Grove, Pa., earned an invitation to this year's festival. "I think that Intercollegiate was the best I have ever played in my 12 years as a musician," she stated, "and getting to do so with such a diverse group of people was absolutely amazing."
Glackin also enjoyed becoming friends with Harrison, a student from Waynesburg University. "We invited him to eat lunch with us on the first day," she said, "because, as the only student from his school, he was alone.  To me, this was what I was most hoping to do at Intercollegiate—meet people from other bands and make new friends."
Euphonium player Ming Li Goldston, a senior majoring in English and theatre from East Stroudsburg, Pa., attended her fourth festival. "I work very hard each year to prepare for this festival so I can place really well and make ESU look good.
"We're like the underdogs," Goldston added, "with something to prove—that just like any other university, we have talented and dedicated musicians who love what they do and want to share their passions with others."
---
---