Four Students Participate in European Union Simulation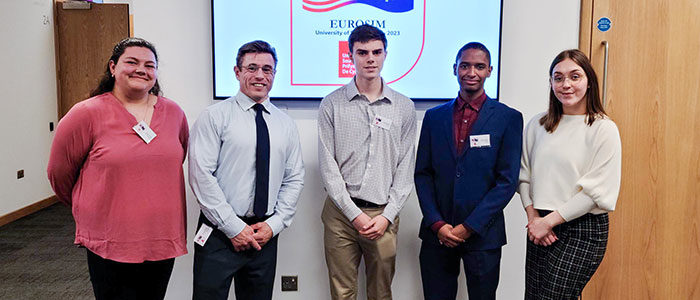 Posted by: Elizabeth Richardson on January 25, 2023, No Comments
As part of a political science course offered over winter break, four East Stroudsburg University students, accompanied by L. Johan Eliasson, Ph.D., professor of political science, participated in the International European Union Simulation in Newport, Wales. The Simulation took place January 3-7, 2023.
John Santana, a senior political science major from Allentown, Pa.; Justin Walters, a freshman political science major from Holland, Pa.; Hope De Fazio, a sophomore English major from Roaring Brook Township, Pa.; and Grace Farley, a sophomore political science major from Glen Mills, Pa. took part in the rigorous, five-day exercise known as Eurosim. They prepared through coursework, by reading and discussing the European Union, law, policies, proposals, and learning negotiation strategies.
The simulation enhances participants' knowledge of international law, the European Union (the world's largest economy and emerging political union of 27 member states), negotiating strategy, and diplomatic protocol, by negotiating real-life legal and policy problems. Legal documents are drafted, legislation proposed and negotiated, and compromises ensue in negotiations. Students also engage in social activities and cultural excursions, learning about the history of the city in which Eurosim is held.
The 2023 simulation, held at the University of South Wales, brought together 149 students from 16 European and American universities and colleges. The 2024 edition will be in Brockport, NY. Participation is open to all majors.
For more information about Eurosim, contact Eliasson at (570) 422-3250 or email jeliasson@esu.edu.
---
---