Interim President Kenneth Long 'Ideal Person' to Take the Helm During Volatile Time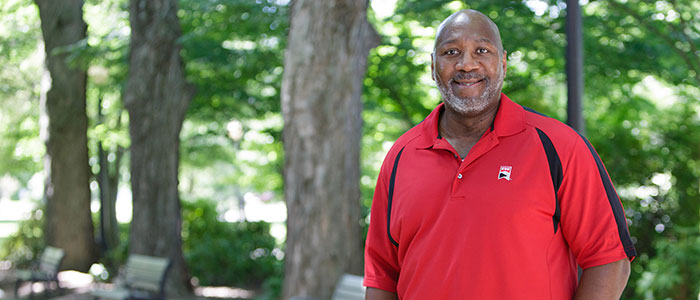 Posted by: Elizabeth Richardson on July 31, 2020, No Comments
Just months into her tenure as East Stroudsburg University's 13th president, Marcia G. Welsh, Ph.D. began searching for a chief financial officer for ESU. One name kept coming up.
At the time, Kenneth Long was assistant vice president for administration & finance at Kutztown University and his stellar reputation in the field was widely known.
"Everything I heard was he was the best CFO in the state," Dr. Welsh says. "I met him and he was so genuine and so intelligent that I thought he would be just perfect for ESU."
Mr. Long started as ESU's vice president of administration and finance in 2013 and quickly lived up to his reputation, according to Welsh and others who have worked with him. Three months after Welsh announced her retirement, the Board of Governors for Pennsylvania's State System of Higher Education voted unanimously to appoint Long to serve as interim president of ESU on April 10. He officially takes the helm on July 31.
Over his tenure in ESU finance, Long took the university from operating at a deficit to a surplus, all while helping Welsh achieve her goals.
"He impressed me beyond belief," Welsh says. "He spent a lot of time and energy making sure that resources were funneled to our priorities.  This institution looks better and is better because of his attention to the financial side of it, as well as the facilities side."
Faced with the challenges of keeping tuition affordable while costs increased, Long gave Welsh the unvarnished truth.
"The thing that impresses me the most is his honesty and integrity," Welsh says. "I know when he says something, it's right. You always know where we stand."
For Long, that's just part of his DNA. He told Welsh when she hired him: "I will always give you my honest opinion. I don't do kiss-up."
Pat Ross '67, chair of the ESU Council of Trustees, says other financial officers in the state system turn to Long for advice. Together, Welsh and Long put ESU on a sound fiscal footing, despite enormous pressures facing higher education in general and the PASSHE universities specifically.
"He would tell her and the board exactly the way it was; he didn't sugarcoat things," Ross says. "He's very smart. He knows how to get the most out of the dollar. He's very calm under pressure."
But Long is not just a "numbers guy". As the coronavirus pandemic forced colleges around the nation to hold classes online, ESU administrators were looking for ways to help all alumni who are teachers.
"Ken was the one who came up with the idea of offering our alumni who teach in the K-12 system two courses at no cost to them on how to teach online," Welsh says. "It's a good way to give back to our alumni and better prepare them to be teachers in a world that's changed."
Over the summer, Zuri Redmond, a rising senior majoring in communication who is president of the Black Student Union, worked with Long on YouTube videos discussing issues surrounding the killing of George Floyd, the Black Lives Matter movement, and race relations on campus. Redmond says Long was a joy to work with and encouraged her to engage with campus police and those in the region.
"He wants to push us to be the change on our campus," says Redmond.
After speaking with Redmond and Welsh, Long met with members of the campus police department.
"Several police and security officers said, 'We want to partner with you and the university to make sure we never become a Minnesota or Atlanta or any of those other places'," he says. It was a positive exchange and the officers agreed that if any in their rank are disrespectful to people because of their race, ethnicity, gender or sexual orientation, it's the department's responsibility to confront that person, "because that officer doesn't represent them and they don't represent ESU," Long says.
Redmond says Long's appointment as interim president has been met with enthusiasm.
"A lot of people who have found out are really excited for this kind of change and just seeing someone who is African American in a leadership position," she says.
It's a point of pride with Long that he becomes the first black president of the university with the most diverse student body among the 14 PASSHE schools. He has a special appreciation for the mission of ESU to provide a first-class affordable education to students from all walks of life.
Born and raised in Jersey City, N.J., Long comes from a family of five children. Early on, he understood the value of education. His father, a factory shop steward, died when he was eight years old and Long watched his mother, a seamstress, work two jobs to support the family. She and Long's uncles on both sides of the family instilled the belief that you need to work hard in school and in life if you want to succeed.
"My mother had a philosophy for my siblings and me: You had three choices after high school: either you go to post-secondary school, you go into the military, or you're getting out of the house," Long recalls, chuckling. "It was pretty simple."
Long excelled in math, earning a spot at a prestigious magnet public school now known as Ronald E. McNair Academic High School, and then went to Drew University in Madison, N.J. where he majored in math and political science while working multiple jobs on and off campus.
Long started his career in higher education, shortly after graduating from college, as assistant director of student accounts at DeVry Technical Institute in New Jersey (now DeVry University). Over the next 18 years, he advanced to hold numerous other financial positions at DeVry, eventually working his way up to dean of finance and administration, the top financial position at the New Jersey campus. He played a pivotal role in the opening of DeVry's first campuses in Florida, New York and Pennsylvania.
He earned his Master of Business Administration degree with an emphasis in accounting from Monmouth University in New Jersey while working full-time. Long left DeVry in 2005 to become director of budget and planning at the University of Toledo, a lower position than what he previous held. He explains, "I took the director position at Toledo so that my wife could live closer to her only sister and for me to transition from for-profit higher education to the not-for-profit sector."
Shortly after joining Toledo, the university merged with the Medical University of Ohio and Long was asked to serve as interim chief financial officer of the University of Toledo Physician Practice Group and later promoted to associate vice president for budget and planning for the newly-merged university.
With his wife pregnant with their third child, Long and his family decided to move back east so that their children could be closer to his 75-year-old mother and most of their family in New Jersey. Long accepted the position of assistant vice president for administration and finance at Kutztown University in 2008. During his five years at KU, Long had numerous accomplishments, including serving as the administrative representative on the general education task group and interim vice president for finance and administration at Cheyney University.
Ken and his wife Evelyn are married for 15 years and they have three daughters: Alysha, Peyton and Taylor.
Along the way he developed a strong appreciation for all that students and their families do to make college possible and that cemented his commitment to helping them achieve their dreams. He saw the transformational power of higher education, especially for those not born with a silver spoon in their mouths.
"You can have such a profound impact on someone's life that it could have gone one way or the other if not for the decisions you made or the opportunities you gave a student," he says. "You have a chance to do something and make an impact that can change your community."
Long says he seeks to keep ESU on the path Welsh has set with its mission of "Students First: Innovate ESU."
ESU athletic director Gary Gray, Ph.D., says Long's dedication to ESU's mission combined with his expertise makes him "the ideal person" to take the helm at this particularly volatile time.
With the pandemic and enrollment declines across higher education, "now more than ever having a CEO with business acumen is going to be very, very important because we'll all be facing some pretty sobering financial decisions in the years ahead," Gray says.
Long was instrumental in the public/private partnership that resulted in new artificial turf baseball and softball fields ESU teams use on Stroud Township land. Long negotiated the legal agreement with the township and Stroudsburg Little League to ensure ESU teams had the necessary access to the fields before the university committed funds into the artificial turf, Gray says.
"He's a team player, he listens well, he's actively involved in many parts of the university," Gray says. "He's very engaging as a leader. He wants everyone to participate."
Mary Frances Postupack, ESU vice president for economic development and innovation, has worked with Long on the $1.2 million 16,000-square-foot expansion of the Business Accelerator in the Innovation Center, funded in part by a grant from the federal Economic Development Administration. She sees Long as a visionary leader whose ability to make hard decisions will serve ESU well during these difficult times.
"His decisions are for the greater good and always the number one driver is our students," she says. "He's going to be a great president."
---
---