Madelon Powers Gallery to Present Océan de Terre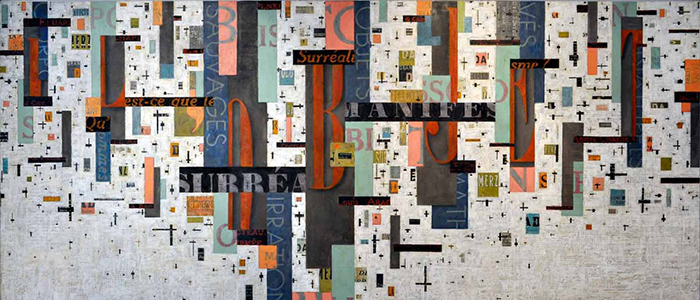 Posted by: Elizabeth Richardson on September 17, 2019, No Comments
East Stroudsburg University's Madelon Powers Gallery will feature Océan de Terre, a collection of collages and assemblages by Pocono artist Will Rothfuss, October 1-25.
Gallery hours are Monday, Tuesday, and Friday from 11 a.m. to 4 p.m., and Wednesday and Thursday from 11 a.m. to 7 p.m.
A reception for the artist will be held Wednesday, October 2 in the gallery, located in the university's Fine & Performing Arts Center, Normal and Marguerite streets. Both the exhibit and reception are open to the public at no cost.
"My current abstract practice is about the perfection of form," Rothfuss said. "More specifically, searching for forms that organize or curate large amounts of visual data – primarily images and texts from modern art – in geometric or architectural structures. The work is hierarchical in nature (figure and ground as opposed to 'all over')".
Rothfuss explained, "to this end, my primary mediums for formal exploration are collage and assemblage which recycle visual materials that have had a previous use. The original text, imagery, and content is fragmented, juxtaposed randomly, and ultimately absorbed by the form."
Materials used in Rothfuss' works include: men's leisure shirts and silk-screened T shirts with printed bits of poetry, old master reproductions, art magazine clippings, wood fragments of furniture and shipping pallets, tools, books, and paint and wax.
Rothfuss added that the series of works in this exhibit were inspired by the poem of the same name by the French poet Guillaume Apollinaire. "Although geometric in form, they are surrealistic in conception – any meaning accrues unconsciously from the manipulation of form."
The artist describes himself as a collagist, a painter of geometric abstraction, and an assemblage artist as well as an occasional hyper-realist and plein air painter whose work and aesthetic have evolved over a more than 40 year career.
Rothfuss studied painting and drawing at the Art Students League of New York City and abstraction, art history, and printmaking at Cornell University. He also has worked extensively as a cabinetmaker and scenic designer. He currently maintains a full-time artmaking practice near Delaware Water Gap, Pa.
For more information about the exhibition or reception, email esuarts@esu.edu or call 570-422-3483.
---
---