Madelon Powers Gallery to Present Senior Seminar and Portfolio in Art Student Exhibition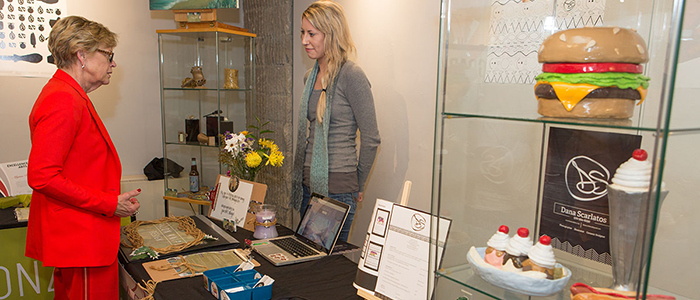 Posted by: Elizabeth Richardson on April 19, 2019, No Comments
East Stroudsburg University's Madelon Powers Gallery will feature art works and portfolios of advanced students in the university art+design department in a Senior Seminar and Portfolio in Art Student Exhibition April 29 -May 8. The exhibition will include works produced by students completing independent study projects and works from selected art+design classes.
Hours for the gallery, located in the university's Fine and Performing Arts Center, Normal and Marguerite streets, are Monday, Tuesday and Friday from 11 a.m. to 4 p.m., and Wednesday and Thursday 11 a.m. to 7 p.m.
A reception for the artists will be held Wednesday, May 1 from 4-6 p.m. in the gallery.  Both the exhibit and reception are open to the public at no cost.
At the reception, the 2019 Excellence in the Arts awards will be presented. The art+design department also will present the Dr. Irene Mitchel Three Sisters Endowed Art Scholarship in memory of Helen Mitchel Stetz and Mary Mitchel Kurello, and the Cecilia S. Cohen Award for Excellence in Art History.
Seniors majoring in integrated art+design participating in the exhibit include: Andreas Alomar of East Stroudsburg, Pa.; Laila Andujar of Milford, Pa.; Kelliann Brown of Bogota, N.J.; Kristen Cappello of Milford, Pa.; Samatha Dietz of Johnstown, Pa.; Brenna Klinger of Blandon, Pa.; Alicia Koval of Broomall, Pa.; Lauren Lawrence of Bronx, N.Y.; Timothy Morrell of Staatsburg, N.Y.; Brendan Reilly of Mount Bethel, Pa.; Ellen Rosenfield of Bethlehem, Pa.; Jennifer Tullo of Cedar Grove, Pa.; and Ryan Zacharias of Brodheadsville, Pa.
Senior art+design majors featured in the exhibit include: Stephen Coleman of Summit, N.J.; Elizabeth Lyman of Bristol, Pa.; Cody Sarisky of East Stroudsburg, Pa.; and Ryan Wenrich of Wyoming, Pa.
Two senior art+design majors are graduating with double majors: Laura Hatch of East Stroudsburg with a second major in psychology, and Maryruth Maichin of East Stroudsburg with a second major in English.
The exhibit also will include works by junior integrated art+design majors Isis Hodge of East Stroudsburg, and John Maffei of Milford, Pa.; and junior art+design major Alaina Warner of Rockaway, N.J.
For more information on the exhibit or reception, contact the Fine and Performing Arts Center at esuarts.esu.edu or call 570-422-3483.
---
---