Madelon Powers Gallery to Present The Polka Dot Exhibition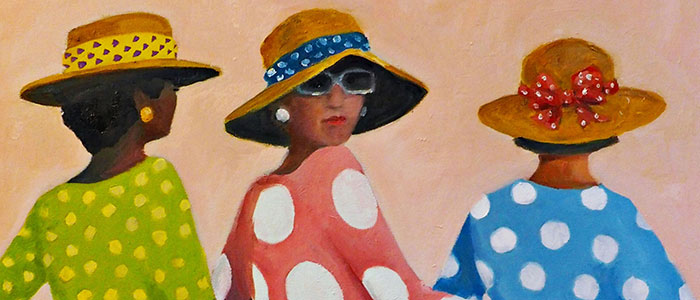 Posted by: Elizabeth Richardson on October 5, 2021, No Comments
East Stroudsburg University's Madelon Powers Gallery will feature The Polka Dot Exhibition, a collection of oil paintings by Pocono artist Jill Swersie, October 7-27.
Gallery hours are 11 a.m. – 4 p.m., Monday – Friday.
A reception for the artist will be held Wednesday, October 20 from 4 – 7 p.m. in the gallery, located in the university's Fine & Performing Arts Center, Normal and Marguerite streets. Both the exhibit and reception are open to the public at no cost.
Swersie has been oil painting professionally for over 35 years. Her work has been exhibited in numerous art galleries and shows in New York City, New Jersey, Pennsylvania and Colorado.  Her paintings have been seen at many local art venues and she has earned a multitude of awards for her work.
A mural she created, "Art of the Dance", can be seen in downtown Stroudsburg. In 2016 a larger-than-life copy of her oil painting "Man's Best Friend" was seen on billboards throughout the Pocono region when she was one of five artists selected for Adams Outdoor Advertising's ArtPop Exhibition.
Swersie has taught art at Northampton Community College and the Pocono Arts Council.  She is currently teaching weekly oil painting classes at the Dunmore Senior Center in Dunmore, Pa.
Notable past exhibitions include her "Hat Series" at the Dutot Museum in Delaware Water Gap and her "Black & White Exhibition" at ESU. Swersie welcomes all attendees to dress accordingly for her exhibits and is encouraging all guests to wear polka dots for her latest work.
For more information about the exhibition or reception, email esuarts@esu.edu or call (570) 422-3694.
---
---