Marine Science Student Conducts Summer Research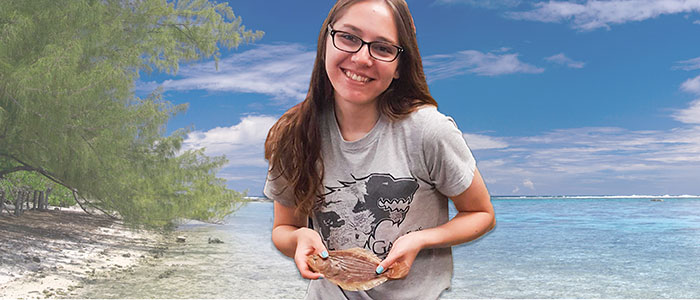 Posted by: Elizabeth Richardson on July 11, 2017, No Comments
Leah Bergman's family enjoys the water. They spend much of their summer at the Jersey shore and like to pass the time fishing. It's probably that time on the water that led Bergman, a junior from Coatsville, Pa., to her interest in marine science and eventually to East Stroudsburg University. "In high school a friend of mine took a tour of ESU. She told me she noticed they have a marine science program so I decided to check it out for myself," Bergman said. "I came to visit campus and loved everything about ESU." She is now a double major, studying marine science and integrated organismal biology.
When Bergman learned of a student research grant through the Save Barnegat Bay Facebook page she went to James Hunt, Ph.D., associate professor of biology at ESU, and asked for advice. "I never did anything like this before," Bergman said. "I didn't know how to write a grant proposal or even how to put my ideas for research on paper. Dr. Hunt helped me."
Bergman was awarded the grant and she is spending the summer studying summer flounder. Bergman explained that flounder are not endangered, but they are being overfished. This is a great opportunity to collect data on this particular species of fish should it be needed for conservation efforts in the future. "There are a lot of questions I'd like to find the answers to," she said, "such as, 'Do flounder like to live on sand or in mud? Do they hunt and eat differently in the sand versus the mud? What role does the water quality paly in the lives of flounder?'"
To find the answers to these questions Bergman, along with her father and brother, are taking to the water this summer. "They will be doing most of the fishing," Bergman said of her father and brother. "I'll be collecting the data." That data includes water quality tests, the length of the fish they catch, and extracting the stomach contents of the flounder, assuming the fish they catch are big enough to keep.
For Bergman, this family research effort has been fun so far. She says her parents are significantly aware of environmental changes and they've passed that awareness down to their children. "It is a great opportunity for us to spend time together, doing what we love, and learning how to protect this species should it be necessary."
She will wrap up her research and give a final presentation to the local Barnegat Bay community on July 31. "Again, this is something I've never done before, so I'll definitely reach out to Dr. Hunt for some advice about presenting research," Bergman said. "I hear the members of this community are very interactive and ask a lot of questions. For so many of them the water here is their livelihood. I want to be as prepared as possible."
When this opportunity came about Bergman thought it might be too early in her academic career to be doing research. But with the help of marine science department she is getting a lot of hands-on experience this summer. In addition to this research project, Bergman will accompany Dr. Hunt this August on a climate change research cruise.
"These are two very different, very unique experiences," Bergman said. "People don't think this kind of research is possible as an undergrad." She admits it is scary putting herself out there and getting involved in such huge projects. "When you talk to your professors, you quickly realize they are interested in what you want to know and what you want to learn. Utilizing the faculty is a great way to begin these research projects."
---
---