New National Guard Benefit Pays ESU Student's Tuition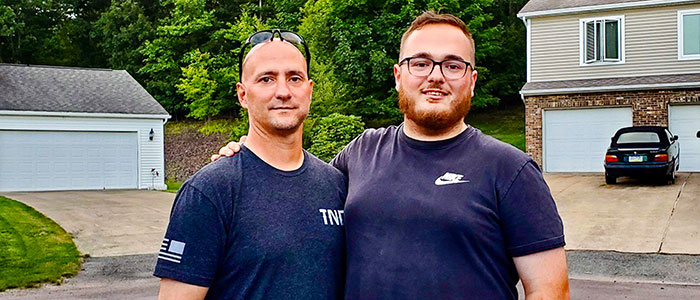 Posted by: admin on October 1, 2020, No Comments
For East Stroudsburg University senior Owen Morgan, the new Military Family Education Program came just in time.
Morgan, who is majoring in hotel, recreation & tourism management, had exhausted his share of a Post-9/11 GI Bill education benefit his dad, Sgt. 1st. Class John Morgan, had accrued in his full-time job with the Pennsylvania National Guard at the Kingston Armory in Kingston, Pa. But last year, Gov. Tom Wolf signed into law the Military Family Education Program, which pays college tuition for a spouse or child of a Pennsylvania National Guard member who reenlists for another six-year stint. The program covers up to 10 semesters or five years at a state-approved college or university.
The benefit can be divided among those in the Guard member's immediate family and can be used for up to 18 years after the member reenlists.
So this year, Owen, who grew up in Dallas, Pa., will use the program to pay for his final year at ESU. There will be tuition benefits left over for his younger brothers, Connor and L.J.
"I want to thank my father and all the National Guard for serving our country, but also Gov. Wolf for helping get this passed," Owen said. "It's allowed me to find a career path I will enjoy the rest of my life and gives other families and students a chance to receive these benefits and reach their goals and their dreams."
The new benefit is in addition to the Educational Assistance Program, which countless Guard members have used to get a college education since it began in 1982. The Pennsylvania Legislature intended the program as a retention incentive and a way to support Guard members and their families who sacrifice and endure hardships as part of service.
Karen Lucas, ESU vice president of enrollment management, sees the program as a way to help National Guard members and their families but also to further the university's mission of ensuring that students from all walks of life have a place at ESU.
"We talk about diversity here at the university and certainly folks from a variety of backgrounds, including military backgrounds, are welcome here," Lucas says. "So I think it's important to have a variety of student voices and for these students to have opportunities for education."
So, for example, in December 2019, ESU student Alexander Walsh of Easton graduated with Bachelor of Science degree in business management with credits he earned in three courses while serving with the Army National Guard at Bagram Air Base in Afghanistan.
Kathleen Fabrizi, executive director of the Pennsylvania National Guard Associations, said her group is excited to see an ESU student using the new benefit.
"We're so proud of East Stroudsburg University and the excellent resources they provide for Guard members, veterans, their spouses and families," Fabrizi said.
Encouraging students from Pennsylvania National Guard families to take advantage of the Military Family Education Program benefit is in keeping with ESU's outreach and support of military personnel and veterans. In 2019, ESU was a finalist for the Pennsylvania National Guard Associations' "Best of the Best Schools" for colleges that are supportive of Guard members who are students. ESU was designated one of 30 colleges and universities that earned the group's "Guard-Friendly Award."
"Our university and the administration have been highly supportive of our Guard," said June Pepe, associate registrar at ESU, who has specialized in helping military veterans.
Owen, who works at the Pocono Hills Golf Course by Exploria Resorts, hopes to head to Colorado after graduating in May and get a job in the golf hospitality or sports hospitality industry.
"I went out to Denver with a couple friends just to go hiking and I really fell in love with it out there," he said. "I've been in contact with a couple of companies – golf resorts – out there about possibly coming on after I graduate in the spring."
He'll step into his future with minimal student loans, thanks to his father's service to the country and the Military Family Education Program.
---
---