Patrick Steidle: ESU Alumnus and Stanley Cup Champion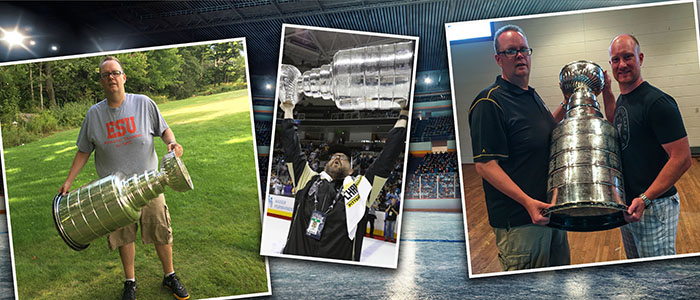 Posted by: Elizabeth Richardson on September 28, 2016, No Comments
Photo Caption: from left: Patrick Steidle shows off the 2016 Stanley Cup while wearing an ESU Athletic Training shirt, Steidle on the ice the night the Pittsburgh Penguins won the championship, Steidle holding the Stanley Cup with fellow ESU alumni Kyle Moore. 
On Patrick Steidle's first day with the Wilkes-Barre/Scranton Penguins, he knew nothing about ice hockey. In fact, he knew so little that during his first game with the American Hockey League (AHL), the minor league affiliate of the National Hockey League's (NHL) Pittsburgh Penguins, he waited for the opposing team's athletic trainer to take his spot because he didn't know where to stand. But it didn't matter. Steidle earned a B.S. in physical education – athletic training/sports medicine from East Stroudsburg University, he knew he was ready for the job.
A lot has changed for Steidle since that night. A Stanley Cup for one, but his appreciation for his education from ESU has not.
In 1991 Steidle had his pick of colleges and chose ESU because of the nationally-recognized faculty. He learned from professors who were setting the standard for athletic trainers and gained hands-on experience working with the Warriors' field hockey and soccer teams. He graduated in 1995 and was offered a job with a high school clinic. Steidle recalls he didn't have to interview for that job. "They called me and said anyone who graduates from ESU is qualified to do this job," he said. And for four years he did.
In 1999, the Wilkes-Barre/Scranton Penguins' inaugural season, he received a call to interview for the team's athletic trainer position. They had already hired someone for the position, but it didn't work out. By the second game of their first season, Steidle was on the roster. He found his stride, learned the sport and the needs of the players, and began to make a home for himself with the team.
Wanting to give students studying to become athletic trainers a hands-on experience, Steidle established an internship program with the team. Over the years he had several ESU students intern with him, beginning with his first intern in 2009, Kyle Moore. Moore recalled it was an ESU professor who helped them connect. He said Steidle's willingness to teach gave him an invaluable internship experience. The two kept in touch after Moore graduated, and Steidle gave him career advice whenever asked.
In the off-seasons Steidle worked at Olympic Training Centers with the rugby, BMX and gymnastics teams. He doesn't have as much time to work with the Olympics teams nowadays, but he remembers those days fondly. "I got to travel all over the Unites States and Canada," he said. "I also went to the Czech Republic. My education enabled me to travel the world working in a field that I love."
In 2013, after over 1,000 games with the WBS Penguins, he got the call every minor leaguer hopes for. He was moving up. As he prepared to make the move to Pittsburgh and join the team of athletic trainers working for the NHL team, he wanted to be sure he left the Wilkes-Barre team in good hands. He recommended his former intern and fellow ESU alumnus, Kyle Moore, who interviewed with the Baby Penguins and got the job. "I would certainly not be where I am in my career if it weren't for Patrick," Moore said. "He is a mentor and, over the years, he's become a great friend."
Steidle's life became a lot busier. The seasons are longer and the responsibilities are greater – he is responsible for the health of every player drafted by the team. There's also a lot more paperwork. Steidle once again found himself looking back at his ESU days. He was always thankful for the knowledge he gained from classes such as an EMT course that taught him how to be prepared in emergency situations. Now he is just as happy to have taken business classes that helped with his organizational skills.
It was 21 years after he graduated from ESU and 17 years working in the Penguins organization when Steidle had the moment many working in professional sports only dream of. The team he watched grow from a group of excellent individual athletes into an unstoppable unit, the team he worked tirelessly to keep healthy and strong, his team, won one of the most coveted prizes in professional sports – the 2016 Pittsburgh Penguins were Stanley Cup champions.
As he stood on the ice with the team as the Stanley Cup was presented, a colleague told him to take in every moment. He did. As the cup made its way to him he looked at his wife in the crowd, knowing his late nights and long road trips were a sacrifice for her too, and smiled.  "It took everything to win," Steidle said. "The team made physical and emotional sacrifices to get to that night."
Steidle attributes his professional success to ESU. "East Stroudsburg University prepared me for everything I've done in life." His feelings about the university and the athletic training program have not wavered over the years. "I have just as much respect for ESU now as I did when I graduated," Steidle said, noting his classmates are running the program now and continuing the tradition of excellence. "I'm honored to say I went to ESU."
---
---