Provost Joanne Z. Bruno Announces Plans to Retire in Summer 2021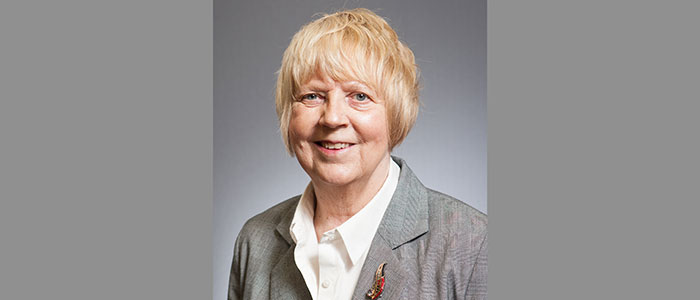 Posted by: admin on February 26, 2021, No Comments
After six years of leading the academic arm of East Stroudsburg University, Provost and Vice President for Academic Affairs Joanne Zakartha Bruno, J.D., announces her retirement effective late summer 2021.
"I have had the pleasure to work with Provost Bruno as both a vice president and now as interim president," said Kenneth Long, ESU's interim president. "As vice president of administration and finance I always admired her ability to handle the enormous task of managing the academic environment on a daily basis coupled with her ability to envision the future of education for students at ESU and within the State System. More personally, as interim president, I have witnessed Jo's deep compassion for her colleagues and the students she serves, especially during the COVID-19 pandemic. We will miss her."
Provost Bruno began her role as Provost at ESU in March 2015. She has been involved in championing a significant number of academic initiatives at the University during her tenure including; leading the completion of ESU's Comprehensive Planning Process; leading the completion of ESU's Goal Alignment; providing oversight and support for adopting new 45-credit general education (GE) program and supporting its phasing in and campus transition with accompanying new GE websites for students and faculty; leading the creation and implementation of several academic programs including ESU's first two doctoral programs (education and health sciences), as well as two master's, four bachelor's degrees and 18 certificate programs; launching ESU's Provost's Colloquium series, a continuing series of intellectually rich events that enable the campus and greater communities to come together in lively debate and share ideas; supporting the creation of unique SITE (scholarship, innovation, teaching and entrepreneurship) spaces on campus to help faculty, staff and students reimagine teaching, as well as establishing a faculty fellow position, coordinated with CREATE Lab; reorganizing the university's institutional research office into the expanded Office of Institutional Effectiveness and Assessment in order to ensure trustworthy data to inform institutional decision-making; and reorganizing the Department of Academic Enrichment and Learning (DAEL), placing it within the College of Education while transforming tutoring within the Warrior Tutoring Center (WTC), including writing, math, etc.
Provost Bruno was also instrumental in supporting ESU's Inclusion Poster Project and discussion sessions; developing and implementing the University's agreements with the Delaware Tribe and Rodale Institute; creating the academic continuity planning including the creation of the Academic Continuity Team (ACT) which advises University leadership on academic actions during the pandemic with members of shared governance including individuals representing the Association of Pennsylvania State College and University Faculties, the University Senate, the Provost's Leadership Team, the University Wide Curriculum Committee, the Academic Chair's Council, the Student Government Association and the Registrar's Office; bringing collaboration and transparency to the University's Meet and Discuss meetings with the faculty union; leading others in the ongoing development of the University's strategic plan, "Students First: Empowering Innovation through Collaboration 2017-2021"; organizing the successful adoption of Interfolio software to support faculty/student work as well as electronic dossier submission for personnel actions; the implementation of StarFish, software that enables students to increase their communication and connection with faculty and staff; establishing the Student Success Network, which provides students with personal communication with campus resources such as reminders, alerts about how they're doing in class and how to make appointments with their professors; developing cross divisional taskforce on retention/progression/graduation; refocusing ESU's office of grants and sponsored projects, particularly associated with awards of NSF grants in STEM fields such as clear path and esports; reinstating the Frederick Douglass school program after years of hiatus; and partnering with former president Marcia G. Welsh, Ph.D., to charge a revised Diversity and Inclusion committee with commitments to a variety of student-centered diversity initiatives including the development of a more inclusive curriculum. Under Bruno's leadership and in collaboration with the Diversity and Inclusion Committee, ESU has increased its efforts and results by hiring faculty of color and other diverse faculty in an effort to ensure a diverse and inclusive learning environment.
Provost Bruno defines these accomplishments as the direct result of team efforts that pride collaboration, collegiality, candid communication, and commitment. She remains very active within PASSHE and serves as one of the four Chief Academic Officer (CAO) leads for the System's Executive Leadership Group. With other CAOs, she worked on a state system task force charged with focusing on course sharing. Provost Bruno implemented faculty sharing and course sharing with sister schools during the 2020-21 academic year, placing ESU at the forefront of this endeavor in the system.
"Jo has done an outstanding job of leading our faculty during some very challenging times," said L. Patrick Ross '67, chair of ESU's Council of Trustees. "Most impressive was her ability to work with faculty to navigate a transition from the majority of face to face classes to virtual learning experiences during the pandemic. There is no doubt that her exemplary leadership has given our students the best opportunities for remote learning. Provost Bruno has always put our students first, and she's also developed a very transparent and trusting relationship with faculty through the years. Her work has truly elevated the educational experience at ESU."
Prior to her work at ESU, Bruno worked in the office of academic affairs at New Jersey City University for close to 20 years, including roles as the Vice President for Academic Affairs and the Vice President of Academic Initiatives and Services. She earned her J.D. from Rutgers University Law School in Newark, N.J. in 1987, practicing in NJ for 9 years.
According to Long, the university will wait until the presidential search is complete before initiating a search to fill the role of Provost and Vice President for Academic Affairs. In the meantime, an interim provost will be announced to fill the role.
---
---