Provost's Colloquium Series Presents "Forms and Functions: The Intersections of Math and Art"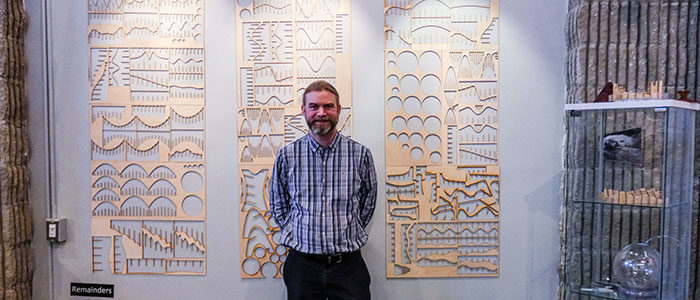 Posted by: Elizabeth Richardson on March 28, 2023, No Comments
East Stroudsburg University's Provost's Colloquium Series, an intellectual experience that promotes dialogue among ESU faculty, staff, students, and community, continues during the Spring 2023 semester with a presentation by Jonathan Keiter, Ph.D., associate professor of mathematics. The presentation, "Forms and Functions: The Intersections of Math and Art", will take place on Wednesday, April 12, at 5:30 p.m. in Beers Lecture Hall. The presentation will also be live streamed on the ESU Live Events webpage.
Mathematics influences the creation of beautiful and creative works of art. Throughout history, mathematics has played an essential role in the creation of art from ancient Egyptian sculptures and architecture; Greek philosophy and geometry; through the Renaissance art; Islamic tiling; and into modern-age computing to create art and movies. Mathematicians have created art in the exploration of their research; a good figure in a research paper can clarify a concept better than equations and words.
Dr. Keiter will give a visual overview of how math has influenced famous historical works of art and how art impacts mathematical research. He will discuss how current mathematicians are using art to explore concepts of mathematics. Finally, Keiter will share his contributions about the connections between art and mathematics. This includes his research in topology and geometry that is rich with examples of figures and drawings and the public artwork on campus that was created with the collaboration with members from ESU's art + media + design department.
For more information about the Provost's Colloquium Series, contact Christina McDonald, director, office of sponsored projects and research, at (570) 422-7954 or cmcdonald9@esu.edu.
---
---