Provost's Colloquium Series Presents "Kids These Days: Using College Student Development Theory to Strengthen Student Success"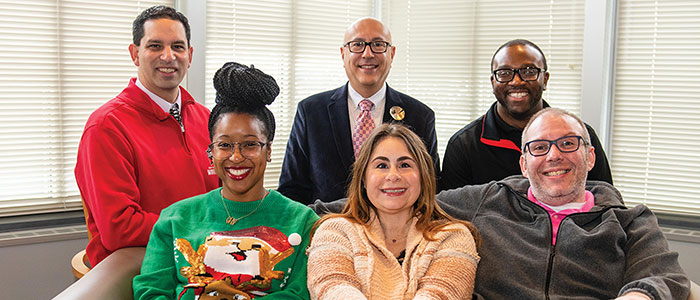 Posted by: admin on November 20, 2020, No Comments
Please note that the photo above was taken prior to the COVID-19 pandemic.
East Stroudsburg University's Provost's Colloquium Series, an intellectual experience that promotes dialogue among ESU faculty, staff, students, and community, continues with a virtual presentation by Santiago Solis, Ed.D., vice president of campus life and inclusive excellence; Cornelia Sewell-Allen, D.Ed., assistant vice president of campus life and inclusive excellence; Gene Kelly, Ph.D., dean of student life; Amy Freeman, D.S.W., director of health & wellness; Curtis Dugar, director of residential & dining services; and Joseph Akob, executive director of the student activity association. The presentation "Kids These Days: Using College Student Development Theory to Strengthen Student Success" will take place on Wednesday, December 2 at 5:30 p.m. Access the presentation via this Zoom.
College student development theory is an ever-expanding field that investigates what changes take place for those who choose to pursue higher education. These theories serve as a solid foundation for individuals who work in student affairs or campus life. ESU's Campus Life and Inclusive Excellence leadership team will explore a number of these theories during the presentation. They will discuss major elements of psychosocial, intellectual/moral, identity, and environmental college student development theories and how they are utilized to enhance student success. This team will guide attendees through a case study that will examine a complex concern that many institutions of higher education struggle with and individuals will be left with concrete ways to apply these theories to their own practice, whether inside or outside the classroom.
For more information about the Provost's Colloquium Series, contact Christina McDonald, director, office of sponsored projects and research, at (570) 422-7954 or cmcdonald9@esu.edu.
---
---