Provost's Colloquium Series Presents "They Called a Mathematician"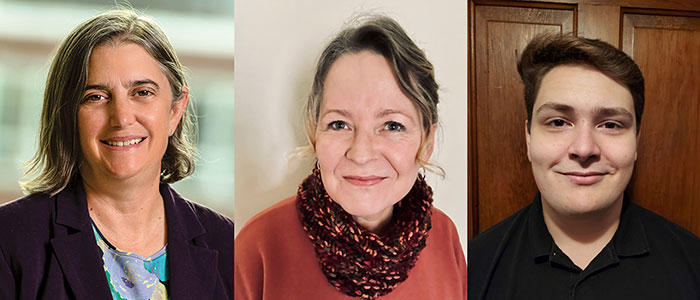 Posted by: Elizabeth Richardson on February 25, 2021, No Comments
East Stroudsburg University's Provost's Colloquium Series, an intellectual experience that promotes dialogue among ESU faculty, staff, students, and community, continues with a virtual presentation by Olivia Carducci, Ph.D., professor and department chair of mathematics, Heidi Fareri, executive director Monroe County Meals on Wheels, and Dylan Campagna, a senior majoring in math from Hope, N.J.
The presentation "They Called a Mathematician," will take place on Wednesday, March 3 at 5:30 p.m. Access the presentation via this Zoom link: https://esu-online.zoom.us/j/95369853395
This presentation will examine the idea of a community kitchen and service-learning project from multiple points-of-view. Dr. Carducci is an applied mathematician who has been involved with service-learning at ESU since 2008. In Spring 2020, Carducci's Introduction to Mathematical Modeling class teamed up with Meals on Wheels (MoW) of Monroe County to help determine the economic viability of a community kitchen that would allow MoW to prepare meals for their clients. The community kitchen is the brain child of the Pocono Mountains Hunger Coalition and is being spearheaded by Fareri, who finds the logistics of purchasing meals in Scranton and delivering them still safe to eat for her clients extremely difficult. Moreover, she believed a community kitchen could support local entrepreneurs, be a space for cooking classes, and provide opportunities for job training programs. Fareri enlisted the help of Carducci to provide technical support.
This project became a highlight of the modeling course, giving an example of how math majors might utilize their education after college. "Service-learning helps students see options for their future that includes the problem-solving skills they are learning in class," Carducci said.
Campagna, one of the student co-leaders for the project, will add a student perspective to the presentation. "The clear benefits to the community and people's lives that can be seen with the model that we created gives me hope and excitement for a future in mathematics," Campagna said. "I feel that my entire outlook on the industry behind mathematics has been refined and I have a better idea of what my future will hold."
For more information about the Provost's Colloquium Series, contact Christina McDonald, director, office of sponsored projects and research, at (570) 422-7954 or cmcdonald9@esu.edu.
---
---