Saving the Tannersville Canberry Bog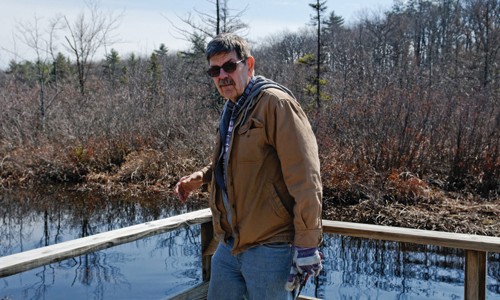 Posted by: admin on April 14, 2011, No Comments
It is clear and warm as the mid-morning sun peeks through the trees at the Tannersville Cranberry Bog. On this day in early April, looking across a newly-cleared 40-foot stretch of peat and moss, Dr. Raymond Milewski describes his hopes for the space.
"Rare plants used to grow here," said Milewski, associate professor of biology and chair of the stewardship committee for the bog, which is owned by The Nature Conservancy. "We cleared the wild plants out on a test basis to see what will happen. Hopefully, the added sunlight will allow those rare plants to bloom again."
More than a year ago, Milewski submitted a proposal to The Nature Conservancy for permission to clear areas to give the native plants a chance to reappear near the bog's boardwalk. After the plan was approved, Milewski led a group of ESU students, alumni, and a retired faculty member to work Saturdays in fall, winter and early spring. Volunteers removed trees, shrubs, and invasive plants out of three designated areas. The removed vegetation was converted to mulch.
Milewski hopes to see the return of plants he used to see growing in the bog, such as yellow-eyed grasses, a rare white-fringed orchid, rose pogonia orchids, some rare sedges and various carnivorous plants.
"In early 1986 or 1987 when this area was open, I met an old man, who remembered back to the '20s and '30s when the space was full of orchids. He said people used to pick the flowers for the altars for one of the local churches," said Milewski, who has a doctorate in plant ecology and has worked at ESU since 1979. "We'd like to get those orchids back again."
The project space was chosen in part because it is a spot where naturalists stop to talk during their educational tours. "We want to create something that will be a vista, where you can look across and see vegetation," Milewski said.
Two additional areas have been cleared to encourage the growth of sedges, cotton grass, bog rosemary, pale laurel and cranberry. An endangered species of butterfly, the cranberry-bog copper, needs cranberries for its caterpillars to feed on.
Though the desired vegetation hasn't grown in the bog for decades, Milewski explained that seed banks stay preserved in the moss and are still viable for years buried in wetlands and bogs. If the test areas are successful, Milewski plans to propose a new vegetation management plan for other areas of the bog.
The project has been a valuable experience for students.
"I am passionate about environmental issues, and the plant management project provided me with a hands-on way to help with ecological management," said Victoria Schaller, a graduate student in biology interested in conservation management and restoration.
Another graduate student, Jennifer Vranicar, is working on creating an educational bulletin board for the parking lot at the bog.
A bog is a wetland dominated by a dense growth of sphagnum moss, underlain by peat rather than mineral soils, and having acidic water. The Tannersville Cranberry Bog, located on Cranberry Creek, is a prime example of a boreal bog — a wetland typically found in northern latitudes. Its moss acts like a wet, spongy air conditioner, which allows plants found in more northern climes to grow there. The Tannersville bog is the southernmost boreal bog east of the Mississippi River and is designated as a National Wildlife Landmark.
The Cranberry Bog is 100 acres and the reserve to protect the bog is nearly 1,000 acres. A boardwalk suspended on floating barrels was installed in the 1980s, to allow for guided tours. Another loop of boardwalk was installed by the Air National Guard in the early '90s. The bog is not open to the public, but guided tours are offered regularly.
---
---