Sport Management Major Interns with Philadelphia Eagles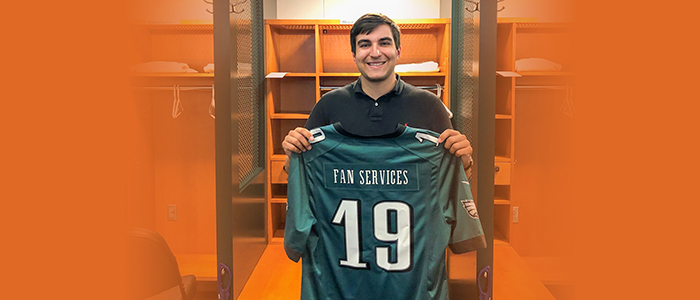 Posted by: Elizabeth Richardson on October 1, 2019, No Comments
Nick Herrmann was driving to Philadelphia last spring to attend a Phillies baseball game as a fan.
Little did the East Stroudsburg University senior majoring in sport management know that a phone call on that drive would change his vantage point this fall.
Herrmann was accepted by the Philadelphia Eagles as a guest services intern, a full-time position that requires the ESU senior to live in Philadelphia and work as many as 14 days in a row.
"I am required to work 480 hours for the semester," Herrmann said in mid-September. "I am already at half that."
Herrmann, who was one of 10 interns the Eagles selected out of approximately 3,000 applicants, is working in the guest services department with a focus on employee scheduling and staffing of the many events held at Lincoln Financial Field.
Sleep is hard to come by, especially on Eagles game days when he's at the stadium by 6 a.m. for a 1 p.m. kickoff.
Herrmann, a native of Brodheadsville, Pa., doesn't see much of the Eagles contests, unless you count the times he walks up the ramps from the concourse to the seating area while he's selling 50-50 raffle tickets.
"It's definitely not a typical 9-to-5 job," he said. "Things come up and change constantly, and there are a lot of different things you have to do. You have to stay late, work multiple events.
There are a lot of hours to be put in. It's a lot of fun, don't get me wrong, but it's a lot of work."
Herrmann is thrilled with his career path since graduating from Pleasant Valley High School. He could have headed to Philadelphia sooner than this fall but turned down acceptance at Temple to attend ESU.
He said choosing his major was one of the best decisions he's made in his young life.
"The ESU sport management department is awesome," Herrmann said. "They are so hands-on. I really wanted to be close to home and I have been able to bounce a lot off of my professors.
Professor (Edward) Arner is wonderful. He's a great person to follow. Having him as a role model is really great."
Herrmann, a soccer fan, spent summer 2018 earning three credits as an intern with Bethlehem Steel FC, a professional soccer team based in Chester.
That experience led to him to want something bigger for his 12-credit internship during his senior year. He applied to professional sports franchises in Philadelphia: the Union, in Major League Soccer; the 76ers, in the NBA; and the Eagles in the NFL.
When his cell phone rang on his spring drive to Philadelphia, Herrmann thought it was the Union calling since his previous experience was with soccer.
"I was pretty much shaking when the Eagles called," he admitted.
Herrmann first had to take a 'hire-view' test with 90 seconds to answer each of the pre-recorded questions without seeing them until they popped up on his computer screen. He then had a 30-minute, in-person interview in Philadelphia.
"It was two weeks until I got the call that I was accepted," he recalled. "I sweated that out. It was a long two weeks."
Herrmann said there are daily challenges at the internship. Shifting from an academic setting to a demanding, fast-paced work environment is tough, but he said the experience will pay off after college.
The hardest part, he joked, is telling his friends that he can't get them Eagles tickets.
"That's insane," he said. "I get that all the time. I'm just an intern. I am at the bottom.
But my ID badge says, 'ticket sales,' so that makes it worse."
Herrmann's ability to land an internship with a significant professional sports organization will bode well for him in the future, according to Dr. Sylvester Williams, J.D., dean of the College of Business and Management.
"The world for education and jobs is completely different from what it used to be," he said. "Today, lots of data says that students who have at least one internship during their college experience have an 87 percent chance of getting a full-time job in their major.
"I think an internship is very important, and the earlier the better. There are different degrees of internships. The Tier-1 internship, one like the Philadelphia Eagles that sets the table for other things students may be able to get involved in. (Herrmann) got one with a Tier-1 company. He is getting real-world experience and is starting his career in a very positive way."
---
---