Student Research Helps Ensure Clean Drinking Water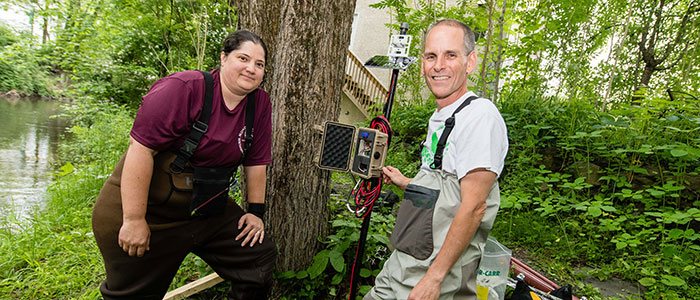 Posted by: Elizabeth Richardson on June 13, 2018, No Comments
An East Stroudsburg University professor and his students are deeply involved in a project to ensure clean drinking water across four states by preserving 13,500 square miles of rivers and streams.
The Delaware River Watershed Initiative involves more than 85 groups working to conserve and restore streams that supply water to 15 million people in New York, New Jersey, Pennsylvania and Delaware. The project recently received a $42 million grant from the William Penn Foundation to begin the second phase of its work.
ESU is located in the geographical center of the Delaware River basin, and is one of just four universities taking part in the project. Dr. Paul Wilson, assistant professor of biological sciences, is director of ESU's environmental science program, and with students in his Stream Ecology course, heads up the scientific work in the Poconos-Kittatinny region.
"It's a really big initiative with lots of moving parts," Wilson says, noting that the DRWI has a national reputation as a model project, especially in the face of federal pullbacks on conservation and environmental protection.
The first phase of the project brought about $130,000 in grant money to campus; the second round of funding means another $120,000 in support of Wilson's classes, as well as research over the next three years.
"But of equal importance is the positive impact the DRWI has on both recruiting ESU science majors and helping students find employment after graduation," he says.
Students work with professionals in the field while taking part in Wilson's classes. Many of them become interns with DRWI partners, obtaining the skills and contacts that help them find jobs in their chosen field or enter graduate school.
"And as the DRWI gains recognition in the conservation community, students are starting to come to ESU specifically to take part in the Stream Ecology class, conduct research and be involved with DRWI activities," he says.
Two of Wilson's students — Christa Reeves and Kristen Roth — illustrate how the program is working on many levels. Both are part of Clear Path, a National Science Foundation scholarship program that enables community college students to transfer to ESU to obtain bachelor's degrees in the STEM fields — science, technology, engineering or math.
The women met in Wilson's Stream Ecology class and became lab partners, taking on a project to compile water quality data by using the mayfly data logging station. The students install and maintain stations that transmit data live through cell phone technology, recording water turbidity, conductivity, temperature and depth."
"The data can be used to answer all manner of questions within a system, or be part of the puzzle piece to answer other related questions," Reeves says.
Reeves, a senior from Easton, Pa., started this type of work in New Jersey as a Warren County Community College student, working with the Musconetcong Watershed Association, another DRWI partner. Her mentor there, who knew Wilson through the DRWI, urged her to transfer to ESU to further her studies, and now she expects to graduate next spring with a Bachelor of Science in environmental studies.
Roth, a senior from Wind Gap, Pa., became interested in water science at Lehigh Carbon Community College, transferring to ESU to major in environmental science and minor in chemistry. She also expects to graduate in the spring.
"I've learned how to actually do water chemistry work, how to record it, how to take samples in the field, how to measure discharge, and how to do invertebrate sampling," Roth says.
Both women now are working on the DRWI and are being paid small stipends from the ESU grant to collect samples and install and maintain mayfly stations, developing the data and using it as a research subject.
"The big thing that's cool for me about this project is the ability to involve undergraduate students," Wilson says, noting that hands-on research opportunities traditionally are reserved for graduate students. "That's the thing that makes it work really well for ESU."
And the fact that the data students collect is going to the Academy of Natural Sciences and being used to make decisions, "it matters to them. They take it a lot more seriously, and make sure they get it right."
Bob Heil, executive director of the local Brodhead Watershed Association, another DRWI partner, notes that the Poconos are a priority for preservation because the water here is already clean.
"Students are helping to lay the scientific foundation for the project, while the project is helping to nurture an appreciation for science in the students," Heil says. "It is genuinely a win-win situation."
"We hope it just keeps growing — the possibilities are almost limitless."
Heil had an opportunity to watch Wilson's students in action last summer, when students installed sensors at the Cherry Valley National Wildlife Refuge south of Stroudsburg, a former golf course.
"It was a hot summer day, and there were five students in boots wading in the creek, installing scientific instruments," Heil says. "This was a great day. They were learning about new technology, and being introduced to troubleshooting problems, and designing a program."
---
---