The Dale and Frances Hughes Cancer Center and ESU Kick off Breast Cancer Awareness Month With Pink Light Walk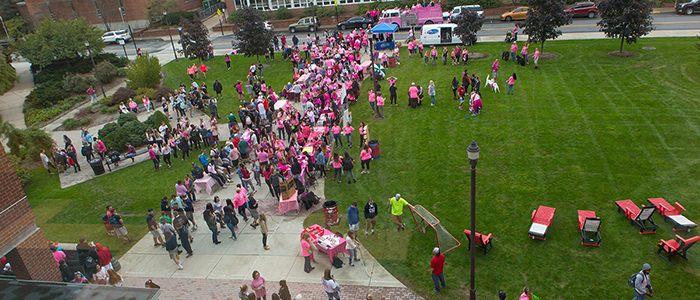 Posted by: Elizabeth Richardson on September 24, 2019, No Comments
NOTE: The education tables at this event will be inside the lobby of ESU's Science and Technology Center, because of rain. The walk will take place as scheduled.
East Stroudsburg University of Pennsylvania (ESU) and Lehigh Valley Hospital–Pocono (LVH–Pocono) will host the 19th annual Pink Light Walk on Thursday, October 3 at 5 p.m.
In collaboration with LVH–Pocono's Dale and Frances Hughes Cancer Center, the American Cancer Society and Prime Time Health of Monroe County's Area Agency on Aging, the walk is held each year to raise awareness about breast cancer, remember those we have lost to the disease, and emphasize the importance of early screening and detections when it comes to breast cancer.
This year's Pink Light Walk is organized by the Dale and Frances Hughes Cancer Center's Breast Health Nurse Navigator, Caroline McConnell, ESU Wellness Education and Prevention Coordinator, Laura Suits, a committee from both organizations, and other members from the community. "I am honored every day to be able to be a part of patients' journeys through the stages of their treatment," said McConnell.
Prior to the walk, at 5 p.m., education tables with interactive programs and information regarding LVH-Pocono's free mammogram voucher program service will be held in the ESU Science and Technology Center on Normal Street. The Pink Light Walk will begin from there at 6 p.m. and will end at the Dale and Frances Hughes Cancer Center located on 181 East Brown Street, East Stroudsburg, where there will be refreshments and a speech by breast cancer survivor and honorary chair of this year's committee, Elizabeth Wheeler.
"My cancer journey started out a little rocky but as time went by, I fought the fight and now I'm walking the walk," Wheeler said.
"As a member of our community, a long-time employee of the Dale & Frances Hughes Cancer Center, and past president of LVH-Pocono Auxiliary, I am encouraged by the strong partnerships established with our hospital. To have a community come together to raise awareness and support for needed breast health services gives hope to the people who battle with this disease," said Shawn Thoms, oncology service line analyst II. "Early detection is the first line of defense in our war against cancer, and events like the Pink Light Walk bring attention to preventive services, support, and needs for those who are touched by breast cancer."
Lehigh Valley Health Network includes eight hospital campuses – three in Allentown including the region's only facility dedicated to orthopedic surgery, one in Bethlehem, one in East Stroudsburg, one in Hazleton and two in Pottsville, Pa.; 26 health centers caring for communities in seven counties; numerous primary and specialty care physician practices and 19 ExpressCARE locations throughout the region including the area's only Children's ExpressCARE at the Health Center at Palmer Township; pharmacy, imaging, home health services and lab services; extensive inpatient and outpatient rehabilitation services; and preferred provider services through Valley Preferred.  Specialty care includes: trauma care at the region's busiest, most-experienced trauma center treating adults and children, burn care at the regional Burn Center, kidney and pancreas transplants; perinatal/neonatal, cardiac, cancer care, orthopedics, and neurology and complex neurosurgery capabilities including national certification as a Comprehensive Stroke Center. The Lehigh Valley Cancer Institute, the Lehigh Valley Heart Institute and the Lehigh Valley Institute for Special Surgery Excellence give clinicians of the highest caliber the necessary infrastructure, programs and partnerships to help community members stay healthy and provide the most advanced treatment when needed. The Lehigh Valley Cancer Institute is a formal member of the Memorial Sloan Kettering (MSK) Cancer Alliance, a transformative initiative to improve the quality of care and outcomes for people with cancer in community health care settings, including access to key MSK clinical trials. Robotic surgery is offered in ten specialties across the health network with more than 14,000 procedures performed since 2008. Lehigh Valley Children's Hospital, the only children's hospital and Level 4 NICU in the region, provides care in more than 30 specialties and general pediatrics. Lehigh Valley Hospital – Cedar Crest has been recognized among the top five hospitals in Pennsylvania by U.S. News & World Report for five consecutive years. Lehigh Valley Hospital– Cedar Crest, Lehigh Valley Hospital – 17th Street and Lehigh Valley Hospital – Muhlenberg are national Magnet hospitals for excellence in nursing.  Additional information is available by visiting LVHN.org, or following us on Facebook and Twitter.
---
---