The Many Journeys of Irene Mitchel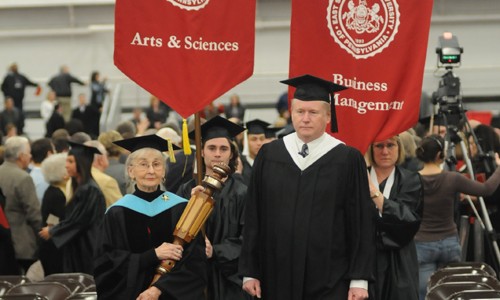 Posted by: admin on June 20, 2009, No Comments
To Dr. Irene Mitchel, professor emeritus of art, retirement is "going down a new path where I'll bring with me wonderful memories of experiences and of very special people."
Mitchel, who joined the ESU faculty in 1961 and retired at the end of the Fall 2008 semester, recounted some of many changes she has seen in her 47 years at the university.
"The entire campus was a suitcase campus," she recalled. "Everyone, including faculty, went home for the weekend. For one semester in the 1960s, the university had Saturday classes, but that didn't go over very well."
"Teacher education was the focus of the school (then East Stroudsburg State Teachers College) and many of the departments were service departments, supporting education," she noted. "The Art Department taught only a small number of courses, including Art in Childhood Education."
To prepare the undergraduates to teach art Mitchel and Art Department faculty had to be multi-faceted, developing lessons in basic drawing, sculpting, ceramics, printmaking, painting and other media. "The students were expected to perform at the level of a fine arts class," she noted.
As the campus expanded, the Art Department moved several times, from the basement of old Stroud Hall, to Larue Hall to Oakes Hall and finally, in 1979, to the Fine and Performing Arts Center which contained studios and a permanent gallery space for the department.
"Years ago, classes were smaller," Mitchel noted. I remember that I used to invite my Women in Art class to my house for refreshments and discussions, and to plan trips into New York City."
Mitchel's many trips with students into New York City were just one aspect of her travels. "Born with a wanderlust to learn about other cultures," as she says. Mitchel began traveling abroad in early 1970s with an 18-day summer exchange trip to Japan.
"I stayed with an engineer for Subaru and his wife, an art teacher," she said, "and learned about art programs in Japanese schools. Then I hosted an exchange guest from Japan at my home during the summer."
From the mid-'70s to the late 1990s, she led summer tours or taught summer study-aboard courses, including multiple trips to Russia, China, Salzburg, Austria and France, and expeditions to India, Turkey, Egypt and throughout Western Europe.
She recalled a faculty exchange program to Poland that she participated in during the 1970s. "The students at the university were doing so much art. In their classes, they were learning and working in the officially-approved 'socialist realism' style. In their free time, they worked in contemporary styles and were well-informed about American and Western European art."
"Whenever I was engaged in overseas art programs, I also examined the music and theater of the country," Mitchel explained. "People need to become acquainted with other cultures first-hand through the country's art in its natural environment. The experience is so much more significant."
Mitchel's journey to ESU began when her parents encouraged her interest in drawing and painting. She did fliers, posters and illustrated Bible stories for the churches in the area of Luzurne County where she grew up. Though there were no art courses in high school, she continued to find artistic opportunities, doing posters and painting scenery for plays.
An excellent student, Mitchel seemed poised to graduate at the top of her class and earn a four-year scholarship to Misercordia College. At the last minute, however, the class averages were recalculated and she lost the top position.
Instead of the scholarship, Mitchel did earn the American Legion Award, which she still considers "a greater honor." Her chemistry teacher recommended her for a job doing advertising for Percy Brown's, a prominent Wilkes-Barre restaurant.
"Percy Brown's was a wonderful experience and I learned a lot, but the dream of going to college never left," Mitchel said. "Everyone at work kept telling me that I should be an art teacher. My mother and father told to select a college and that they would help me pursue my dream.
Mitchel graduated from what is now Kutztown University in three and one half years. "I was supposed to receive two awards at graduation," but I was already teaching in Wilmington, Del., and missed graduation."
"I had an opportunity to think about this event as I was preparing to serve as grand marshal for the December commencement," she said. "It would have been nice to have received those awards from the president. I now realize the pride that professors take in awarding honors."
From Wilmington, Mitchel returned to Luzerne County, where she was supervisor of art for six and one half years. During that time, she earned her master's degree from Penn State and began studying for her doctorate.
When the chair of the Art Education Department at Penn State recommended Mitchel for a teaching job at East Stroudsburg, she was a bit surprised. "I thought that you had to be teaching for 15 or 20 years to teach at the college level, but I only had been teaching seven and one half years. He later told me that I was ready to teach at the college level when I graduated from Kutztown."
Mitchel felt her interview with Dr. Madelon Powers, chair of ESU's art department, wasn't as strong as it could have been since she was distracted by her uncle's death. She received the job, however, and continued work on her doctorate, completing it in 1968.
During her years at ESU, Mitchel served several times as department chair and also as director of the Madelon Powers Gallery. Though she had offers of jobs at other universities, "I declined because I was contented to be at ESU, and wanted to be of service to the university and the students."
At a luncheon held in her honor before her retirement, Mitchel looked back on her career. "Teaching continues to be as interesting and gratifying to me as the first day I began to teach."
She added, "I want to convey the thought that my experience at ESU has been a wonderful one, since it opened the door to many interesting and challenging opportunities for me … in spirit, I'll always be a part of ESU."
---
---