Theatre Alumna Finds Career Opportunities in Los Angeles, Film to Premiere at Pocono Cinema and Cultural Center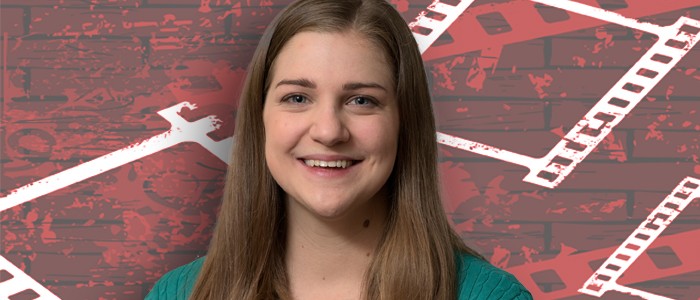 Posted by: admin on December 24, 2015, No Comments
Moving to Los Angeles wasn't something Jenell Manzi '09 ever thought she would do when she graduated. Today the young actress is a new member of SAG-AFTRA, the union of media performers, and is looking forward to the debut of Picked, a short film which she co-produced and played a lead role in.
Like many performers, Manzi thought she would explore opportunities in New York City. "I went to some auditions there, but it never felt right to me," she said. "After growing up in Mount Bethel, Pa., I found New York to be a huge change."
After three years of working in regional venues, Manzi knew that she was ready for a bigger move. She looked to her former theatre professor Stephanie French for advice. French connected Manzi with Cathy Reinking, a Hollywood casting director who had an opening for an internship.
"At first it sounded crazy," Manzi said. "I emailed Reinking who suggested that I visit Los Angeles and then, if I wanted to move, to let her know when I was coming."
Following Reinking's suggestion, Manzi visited a cousin in the Los Angeles area and found a place she could call home. In the fall of 2012, she boarded a plane with her two suitcases to start her internship with Reinking.
Through her internship, Manzi landed a lead role in the web series, The British Invasion, which examines how Hollywood casting practices seems to favor British actors over Americans.
"Because I look young, I found myself in a lot of high school graduation and prom scenes," she said. "Working through Central Casting is good once you establish a relationship with them."
Looking to expand her skills, Manzi began taking classes at the Groundlings, a legendary Hollywood improvisation and sketch comedy theatre. "I've always loved comedy and taking ESU's Stage and Comic Technique with Professor French really piqued my interest," she said. "It was my favorite class and the most difficult because it was about being yourself on stage — I grew a lot in that class."
Auditioning for classes at the Groundlings was intimidating to Manzi but, with her theatre background, she enjoyed the small community of 12-15 people in a class that provided a lot of time to work on the stage. "It was an exciting team where people were supportive rather than competitive," she explained.
Manzi made another important contact through a producing workshop. She meet Kelsey Snelling, a writer and filmmaker and a fellow graduate of Bangor Area High School. The two began working together on a short film that Snelling had written — Picked, a story of a first-grader's field trip to the local pumpkin patch to choose the "right" pumpkin.
Snelling had previously worked with Hollow Tree Films, a Pocono-based production company, and the company agreed to produce the film. Brandon Taylor '12, became the film's executive producer and Melissa Sherry '12 became a co-producer.
The producers did their planning and pre-production work every Monday through conference calls on Google Hangouts, Manzi explained.
Picked was shot at True Blue Farm in Bangor, Pa., in September, and Manzi played the teacher in the film. The crowd-funded film will have its first screening for an invited audience Sunday, December 27 at 6:30 p.m. at Pocono Cinema and Cultural Center in East Stroudsburg.
Working on the film has given Manzi a new goal: to learn more about working with the camera. "This is something that I need to explore so I can better understand the film process," she said.
Last November, Manzi took a huge step and joined SAG-AFTRA. "I have been eligible for a while, but now is the right time to take the bigger leap," she said.
"The actress who led the union orientation session talked about how she has been steadily working for years and has made a good living," Manzi added. "I know that I'm still at the beginning of my career and Los Angeles is where I want to make it all happen."
---
---