Accounting Major Awarded ESU Warrior Transfer Scholarship, Lands Job with Auditor General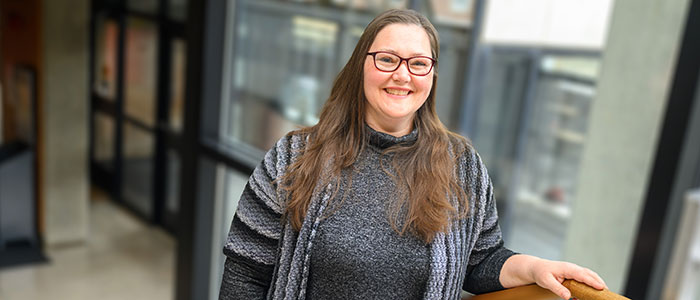 Posted by: Elizabeth Richardson on April 20, 2023, One Comment
Rebecca Serafin of Easton, Pa., attended ESU as a nontraditional student planning her next chapter. Already in the workforce, Serafin planned to use her years of experience in the retail and food services management industries as the foundation for an accounting career. Promotions to positions with increased levels of responsibility influenced her decision. "Rising through the ranks, dealing with training and the business side of retail and food service, I got a lot of exposure to numbers as they applied to the accounting and financial perspectives, such as how we track performance," she says.
Serafin transferred to ESU from Northampton Community College (NCC), where she earned her associates degree in accounting. Her strong academic performance and membership in Phi Theta Kappa at NCC made her eligible for ESU's GPA-based Warrior Scholarship for transfer students. "Between the Warrior and Phi Theta Kappa scholarships, my tuition was almost fully covered," Serafin said. She was committed to learning and pursuing her own goals and dreams, but as a mother of several children—some college-age themselves—Serafin also had to be practical. She admits her financial awards made it possible for her to attend ESU. "Through ESU, I had the opportunity to pursue other scholarships. I got a scholarship through Sigma Beta Delta and one through the Pennsylvania Society of Tax and Accounting Professionals," she said.
Attending ESU seemed like a wise investment, but true to the meticulous and analytical nature of her profession, Serafin wanted to be sure. "As accountants, we're taught to do the risk/benefit analysis. What would be the benefit of an accounting degree? It's highly sought-after—accountants have no trouble finding jobs. ESU is significantly less, tuition-wise, than many other schools, and I had the benefit of being able to commute. The awards definitely made a difference in being able to do this, or not doing it at all," she said.
Her major decided, Serafin began looking at her next steps. She was interested in a position with Pennsylvania Auditor General Timothy DeFoor's office. When she heard he would be a guest speaker in one of her classes, she came prepared. "He spoke to one of the classes I had with professor Robert Thomas. I was all over the department's website beforehand to learn more about it. I made sure I had my resume with me on the day he was speaking to the class. I asked questions. I was very engaged in the discussion. And I made sure to get a personal introduction afterwards," she said. DeFoor came to ESU to tout his office's Intern2Hire program. "He went all over Pennsylvania pitching this program," Serafin said. "This was initially the program I was interested in, but because of my background, I was able to skip the intern part, and go right to the auditor position." She starts her new job two weeks after graduation. Best of all for this busy mom, she will be working remotely.
As she wraps up her undergraduate career, Serafin said she gained so much from her time at ESU and will also leave with a Spanish minor. "The accounting and Spanish professors have been very hands-on, and very invested in every single one of their students. And not just that the students get certain grades, but that they have an understanding of the information and how to apply it—that's a huge part of what they do. As a nontraditional student, it's been helpful to be around peers of a different age group—to work and collaborate with them. They're the same level I will be at in the workplace. Being around them has been very valuable."
---
---
---