Art + Design Professor Displays Full-Color, 3D Printed, Pocono Mountains Flowers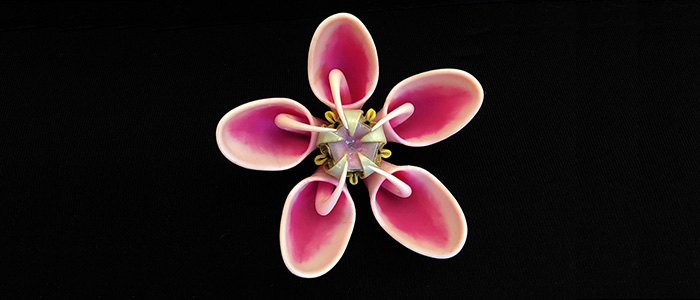 Posted by: Elizabeth Richardson on April 7, 2017, One Comment
Photo Caption: Darlene Farris-LaBar, professor of art + design at ESU used full-color 3D printing to document significant flowers in the Pocono Mountains such as the Milkweed (above) and Nightshade.
Darlene Farris-LaBar has loved creating and making items for as long as she can remember.
As a little girl, she tinkered with her mom's sewing machine after school when she wasn't taking a watch apart just to see if she could put it back together.
As decades have passed, Farris-LaBar's knowledge has drastically increased, and she has made a name for herself in the 3D printing world.
The professor of art + design in the college of arts and sciences at East Stroudsburg University of Pennsylvania recently was awarded a Pennsylvania Council for the Arts grant, allowing her to document significant Pocono flowers using her expertise in full-color, 3D printing.
With her work, which was created on the school's J750 printer – the newest of printers in the G3D printing lab – she hopes to bring environmental awareness of the region's natural surroundings.
"I learned a lot about using that printer and about the flowers as well," she said. "I have a wider respect of these beautiful colors and forms in the natural world. I've been able to take the maker and designer in me and combine it with a passion to protect our planet, which is very necessary for our survival."
Farris-LaBar is getting the chance to show off her unique creations at several exhibits in the coming months. Her work will be on display at the Gallery at Auradell at the Stroudsmoor Country Inn through June 1. There will be an artist reception this Sunday, April 8 from 3 to 5:30 p.m. To reserve your spot, please RSVP to Linda at 570-421-6431, ext. 424, or email linda@stroudsmoor.com. The Stroudsmoor County Inn is located at 257 Stroudsmoor Road, Stroudsburg, Pa.
"The Stroudsmoor Country Inn is a venue where people from all over the world visit," Farris-LaBar said. "And in the Poconos, I have been trying really hard to educate people about the native flowers that exist. It's good to let people who come here know about all the fragile beauty we have in our surroundings."
From March 31 to May 4, Farris-LaBar will have 60 flowers displayed in an exhibit called "A Planet that Dreams" at the Eckert Gallery at Performing Arts Center at Millersville.
Farris-LaBar, recently named among the top 30 female 3D printers by the online magazine "All About 3D Printing," has several other shows coming up – both locally and internationally.
Those in the area can get another glance of her beautiful work from April 11 to May 11 at the Stroudsburg Credit Union. Her work there will be macro photography printed on metal. While hiking in Switzerland, Farris-LaBar carried a macro lens that attached to her iPhone, allowing her to get up very close in order to take photos of flowers.
Her 3D flowers will be on display at the International Environmental Communication Conference in Leicester, England, from June 28 to July 3.
From May 5-7, at Duke University's "Construct 3D 2017," Farris-LaBar will be presenting at a national conference on digital fabrication focused on 3D printing for higher education, K-12 and community education.
Farris-LaBar's creations will be at an exhibition called "Tomorrows," which opens May 16 in Athens, Greece. In the fall (the dates have not yet been finalized), her work will be exhibited at a show called "The Surrounding Planet" in Brazil.
Helping to make her 3D flowers look so stunning are all the advancements in her knowledge and the technology. Just a few years ago, the equipment she used couldn't print in color. She would print in white and then paint the objects. Now, all the painting is done digitally through new software programs.
As exciting as all the shows are, Farris-LaBar also is driven by the chance to share her knowledge, experiences and new findings with her ESU students.
"Everything I do I bring back into the classroom, so it's a learning experience for me rather than just being an artistic process," she said. "Anything new is exciting for me and hopefully my students.
"I feel like I finally found a place that truly sings to me, that is really what I'm about. As a professor or even an artist, I work in all areas of sculpture, 3D printing and graphic design, and I think all the technology pulls it all together. It's very satisfying. I have always wanted my work to have more than just a purpose of just being inspiring. I wanted people to learn or gain some information that can help something outside of the art world. In this case, it is about – hopefully – saving special plant species and making people more aware of environmental concerns. I hope I have something I am giving back."
---
---
---