CEO and Co-Founder, Philly Pretzel Factory to Speak at ESU's Winter Commencement Ceremony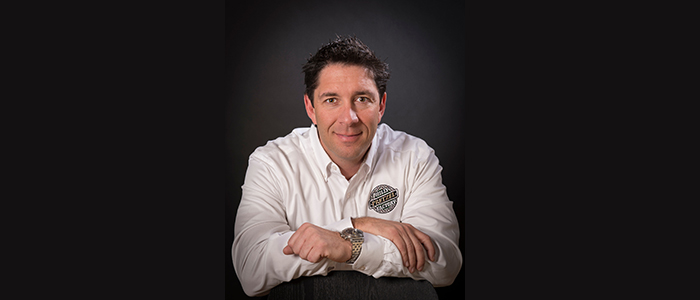 Posted by: Elizabeth Richardson on December 10, 2019, 2 Comments
Dan DiZio '95 will be the keynote speaker for East Stroudsburg University of Pennsylvania's winter commencement ceremony on Saturday, December 14, at 9:45 a.m. in Koehler Fieldhouse. DiZio is the CEO and Co-founder of the Philly Pretzel Factory.
DiZio's entrepreneurial spirit started at the young age of 11 thanks to a neighbor who owned a bakery in a small town outside of Philadelphia. He would sell the bakery's pretzels on a street corner in Philadelphia and his neighbor would split the sales for the day. DiZio set up shop every day after school, on weekends, and throughout the summer.
After graduating from East Stroudsburg University in 1995, DiZio and college roommate Len Lehman '94 found themselves frustrated with their post-graduate careers. In 1998, the pair decided to take a chance on opening their own business. Going back to DiZio's roots selling Philly-style pretzels, they co-founded the Original Philly Pretzel Factory in Northeast Philadelphia. Seeing the large demand for fresh "out of the oven" pretzels, the pair formed Soft Pretzel Franchise Systems, Inc. to extend the "Philly-style" soft pretzels to more locations and eventually, other parts of the country.
Today, Philly Pretzel Factory has grown to 200 open and under contract locations in 17 states and the company is listed among the top franchises in Entrepreneur Magazine and Franchise Market Magazine. Additionally, Philly Pretzel Factory products are consistently listed as the Best Soft Pretzel in local publications such as Philly.com, Philadelphia Inquirer, and Philadelphia Magazine.
In addition to growing the franchise company, DiZio has been featured on Undercover Boss and on the cover of Franchise Times Magazine. He has received the Smart CEO Magazine "Circle of Excellence (in franchising) Award" and was an Entrepreneur of the Year finalist from Ernst & Young. DiZio is currently working to complete his certificate as a Certified Franchise Executive.
---
---
---