Distinguished Professor – Dr. Jane Huffman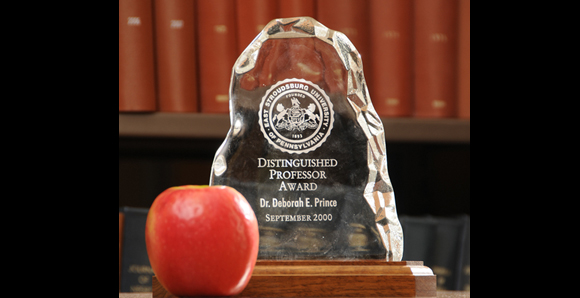 Posted by: admin on September 1, 2007, One Comment
East Stroudsburg University bestows its highest faculty honor, the Distinguished Professor Award, upon Dr. Jane E. Huffman for her outstanding achievement as a teacher, researcher, and scholar.
Dr. Huffman joined the ESU faculty in 1986 and from the start she has been a powerful influence on students in biological sciences particularly those in wildlife microbiology and parasitology. Her students' considerable success in various areas related to biological study is a certain measure of her excellence in the classroom and in the field. As the director of the Applied DNA Sciences Center–Northeast Wildlife DNA Laboratory, Dr. Huffman models the active role of the scientist for all her research students. The work done in the lab has been invaluable to local physicians, a number of state wildlife agencies, and pharmaceutical and bio-tech companies. One of the recent projects involves the study of New Jersey black bears, which provides another opportunity for ESU students to gain field experience. She has also dedicated her expertise to the State of Pennsylvania's scientific community by serving on the Pennsylvania Academy of Sciences from 1993 to the present, serving as president for two of those years.
A prolific scholar, Dr. Huffman has edited a book, Wildlife Diseases, published over fifty articles in peer-reviewed journals, and written a laboratory manual, Microbiology. Since joining ESU's faculty, Dr. Huffman has continued her own medical education, and has completed ESU's Master of Public Health program.
Dr. Huffman received her B.A. and M.S. degrees from the University of Connecticut, and her Ph.D. from Rutgers University.
---
---
---