ESU Alumna Heads to the Peace Corps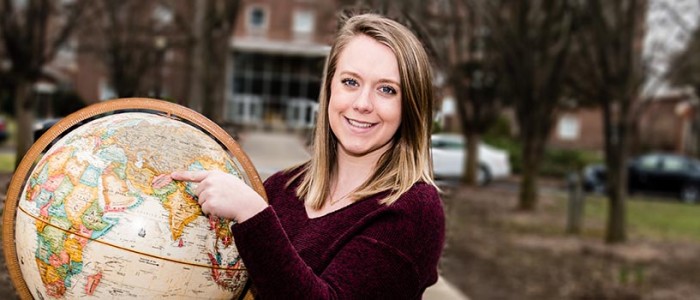 Posted by: admin on April 13, 2016, 2 Comments
Without hesitating, Colleen Sullivan '15 sold her car and packed her bags. In just over a month, she will travel to Kyrgyzstan as a Peace Corps volunteer.
"I've always wanted to do this," she said. "It's about giving back to the world, and that is so important to me."
The international service organization of the United States sends Americans abroad to tackle the most pressing needs of people around the world. Peace Corps volunteers work at the grassroots level to implement positive change in different countries.
Sullivan's interest in the Peace Corps stemmed from a woman who inspires her every day. When she was about 15-years-old, Sullivan would listen to her dad tell stories about her aunt who spent in the Peace Corps and her career working as a Foreign Service Officer and living in a different country every three years.
"I always admired her for having the courage to live all over the world," she said. "I knew I wanted to do that one day."
Sullivan will be spending the next two years of her life teaching English in Kyrgyzstan, while living with a host family she has never met. Once she arrives in Kyrgyzstan she will meet 25 other volunteers from around the country. Moving to a developing country, Sullivan will need to adjust to living without running water and learning a language that she has never spoken.
She spends hours each day studying Kyrgyz and skyping with the volunteer hosts from Kyrgyzstan who have taught her the basics of the language.
"Everything I learn about Kyrgyzstan just makes me more anxious to get started," she said. "I've been looking into this opportunity for years, and I cannot believe it is finally happening."
It took two applications for Sullivan to be admitted into the Peace Corps and follow in her aunt's footsteps. After being rejected the first time when she submitted her application during her senior year at East Stroudsburg University, Sullivan dedicated her time to becoming a volunteer. She traveled to Nicaragua, where she taught English, and spent her summer volunteering with the Boys and Girls Club in Bethlehem, Pa.
"I was not ready to give up," she said. "I knew if I worked hard enough, I would be able to join the Peace Corps someday."
Sullivan, a resident of Easton, Pa., credits ESU for preparing her to go on what she considers her "biggest adventure yet."
"Everything I learned in the classroom at ESU gave me a better understanding of cultures around the world," she said. "Every little bit of knowledge gives me the confidence I need to succeed."
After her two years abroad, Sullivan plans to enroll in a graduate school program and continue her education. She will take the GRE and apply to graduate school all while living in Kyrgyzstan. Just like her aunt, she hopes to one day work as a Foreign Services Officer.
Sullivan's bags are packed, and she is more than ready to head to Kyrgyzstan in the beginning of May.
The ESU community is proud of Sullivan and wishes her much success in the Peace Corps. The university is also honored to welcome Carrie Hessler-Radelet, the director of the Peace Corps, as the keynote speaker for the spring commencement ceremonies, which will be held on Saturday, May 7 at 8:45 a.m. and 1:15 p.m. in Koehler Fieldhouse.
---
---
---