ESU Announces New Deans for College of Education, College of Business Management, and Library and University Collections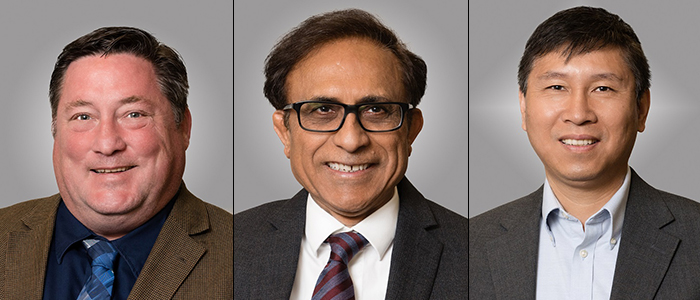 Posted by: admin on June 22, 2016, No Comments
Joanne Bruno, J.D., provost and vice president for academic affairs at East Stroudsburg University of Pennsylvania (ESU), announced the appointment of three new deans: Terry Barry, Ed.D., College of Education, Trib Puri, Ph.D., College of Business and Management, and Jingfeng Xia, Ph.D., library and university collections.
Dr. Barry has been the interim dean of the College of Education since 2014. Prior to that, he served as the associate dean of the college from 2012-2014. Dr. Barry has served in leadership roles on a number of committees in his time at the university, including serving as the chairperson on the Teacher Education Council, the PAC-TE PDE 430 Student Teacher Evaluation Development Committee, the PDE Field Experience Competency Mapping Committee, the Student Teacher Supervisors' Committee, the Assessment Accreditation Specialist Hiring Committee, the Teacher Education Unit and the East Stroudsburg University Strategic Planning Committee- Community Relations. Under Dr. Barry's leadership, the first doctoral program in ESU's history has been approved by the State System. Prior to his time at ESU, Dr. Barry served as the principal of Wind Gap Middle School in Wind Gap, Pa. from 2001-2012.
Dr. Puri's academic career spans more than twenty five years of teaching, research and administrative accomplishments at major universities in the USA and abroad. He has been on the faculty of the University of Massachusetts Dartmouth, Temple University, and Scranton University. He has also been a visiting professor of finance at Drexel University. Dr. Puri received his Ph.D. in Finance and MA in Economics from The University of Tennessee Knoxville, a master's in Mechanical Engineering for Indian Institute of Technology Kanpur, India, and a bachelor's degree in Mechanical Engineering (Summa cum laude) from G.B. Pant University, India.
At the University of Massachusetts Dartmouth, Dr. Puri chaired for eight years the department of Accounting & Finance within an AACSB accredited college. Partnering with internal and external constituents, he assumed several important leadership roles to promote academic life. Working with the faculty, his focus has been to enhance global visibility of his college by creating enhanced educational opportunities for students with a purpose to develop and disseminate business knowledge focused on innovation, engagement, and impact. He has contributed to significant innovation in curriculum development that includes new degrees such as a one-year MBA, MS in Accounting, and two certificate programs. He helped develop an online MBA, an online International Business degree, and joint programs in MBA-Healthcare, and JD-MBA. As the College's International Programs Executive, he took leadership role in developing international partnerships in various countries. He led the strategic planning of the college, an important measure in obtaining AACSB re-accreditation. He has chaired the Partnership, Outreach, and Engagement / Collaboration / Globalization Committee of the university's strategic plan, and also chaired the Financial Resources Standard Committee for the university's NEASC accreditation (New England Association of Schools and Colleges).
As a veteran teacher, Dr. Puri has developed and taught many undergraduate, MBA, and doctoral level finance courses at major universities. He also has supervised doctoral dissertations. Dr. Puri has contributed to the theory and practice of finance and his research papers are published in leading peer-reviewed journals of finance. His early work focuses on theoretical research in the areas of international asset pricing, foreign investment, and pricing of foreign exchange derivatives. One of his papers is now included in The International Library of Critical Writings in Financial Economics. His recent work continues with the advances in asset pricing, market efficiency in emerging markets, and market microstructure. He is the founding editor-in-chief of a finance journal and serves on editorial boards of three other journals. He has delivered key-note addresses and given invited talks.
Dr. Xia served as Director of the Library and Learning Resources Center for the State University of New York at Rockland prior to accepting a position with East Stroudsburg University. In his role, he articulated a strategic vision and served as advocate for the library within the college and larger community. He successfully secured several grants to support the development of library services and collections, including a renovation project to convert existing collection areas into multifunctional information commons for individual and group learning and study. Throughout his career, Dr. Xia also served as an associate professor in the School of Library and Information Science at Indiana University, a reference and instruction librarian at Rutgers University, and a digital projects librarian at the University of Florida.
In their new roles at East Stroudsburg University, each dean will provide leadership to their respective areas, creating opportunities for student learning, internships and career preparation and partnerships for faculty research while serving as a member of the university's council of academic deans and the provost's leadership team.
---
---