ESU Grad Kara Getty Punches Above Her Weight on Set of "Creed III"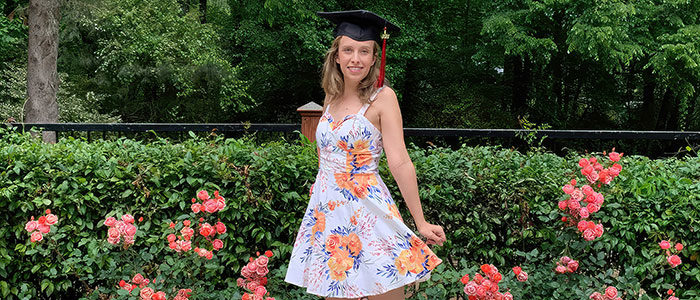 Posted by: Elizabeth Richardson on March 8, 2023, 2 Comments
It did not take Kara Getty long to prove her worth last year on the movie set for "Creed III" where she was working as a video assistant in a paid internship.
Getty, who graduated from East Stroudsburg University in 2021 as a digital media technologies major (now art + media + design) with a concentration in film and television production, received high marks for her skills and work ethic from the professional crew on the Atlanta set for that third movie of the blockbuster franchise.
"They were so impressed," recalls Getty, who is now based in Atlanta. "They're like 'it looks like you've been doing this for years.' And I'm like, 'That's thanks to ESU.'"
Working on the Creed III set with such actors as Phylicia Rashad and Michael B. Jordan, who directed and starred in the movie, helped cement Getty's belief that she was in the right field.
"We spent weeks alone just on the boxing scenes," she said. "It was amazing to watch them perform."
Getty, who grew up in Camp Hill, Pa., said she was drawn to ESU because of its intensive, hands-on film and television program, and its acceptance of students with learning disabilities, which she has. The fact that the university has its own television studio sealed the deal.
She says she loved her time at ESU, immersing herself in television and video projects, including working on everything from commercials to documentaries to short films.
"Besides working on 'Creed III,' those were the best years of my life," she said. "The first thing I did was become part of the Media Production Club on campus. I thought that was amazing."
She counts among her mentors Richard Otto, Ph.D., associate professor of art + media + design, and now-retired Curt Burton, a communications operations specialist, who headed the television studio.
After graduating from ESU, Getty moved on to the Georgia Film Academy, where she earned certification in film production in 2022. It was there that she interned on the "Creed III" film set from January to March.
"I got to help the person who does video playbacks, which shows the director what we just filmed," she said. "I got to work with lots of video equipment.
"At ESU, they teach you how to route cables, which I think was amazing because that was like No. 1 on the day of the job," she said. "So, I was thrown in there right away, hooking up stuff and it's intense."
Those jobs are key because if the cables and other equipment are poorly handled, it can take time to fix and requires scenes to be reshot, which gets expensive and drives up the cost of making the movie.
Keeping within a film's budget became an even bigger concern for Getty when she was later hired as an assistant director on the set of "Trinket Box," a horror feature film shot in Atlanta by Anchored Lens Productions. The movie, directed by Acoryé White and Patrycja Kepa, is slated for release this spring.
"It was a blast," Getty said. "I had a great time on that set."
She was tasked with coordinating schedules and making sure the actors and crew knew where they had to be and how they had to be dressed and made up.
"My biggest responsibility is managing time. If the actors come in, what time do they go into make-up? How long do they need? If the camera has to switch angles for the next scene, how long do they need to readjust? It's all about timing and managing.
"The 'shot list' shows how many scenes or shots we have to get done by the end of the day. My main responsibility is making sure we hit all of that on time and don't go over."
On both movies, she made great connections, which are very important in the film industry. "You can work really hard but honestly if you do not know people, it's going to be really hard to get a job," she said.
It's a demanding vocation but Getty says watching the finished product is rewarding. In February, Getty took her fiancé Timothy Bowers to the Atlanta premiere of "Creed III" where she reveled in picking out scenes she had worked on.
"It was surreal," she said.
---
---
---