ESU Rising: New University Center and New Student Enrollment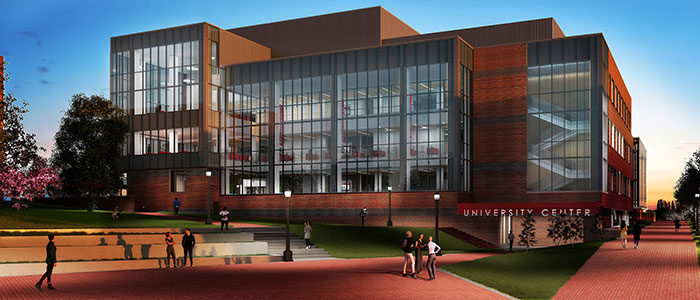 Posted by: Elizabeth Richardson on August 24, 2022, 3 Comments
By Fall 2024, East Stroudsburg University anticipates having a new University Center that will house a large ballroom, bookstore, theater, food court, and offices for student clubs, organizations, and services in an environmentally friendly, state-of-the-art building.
The 156,233-gross-square-foot four-story building is being constructed on the footprint of the Center for Hospitality Management, which included the Keystone Room event space, to replace the University Center built in 1968.
And that's not the only thing rising on campus. Enrollment numbers for new students coming to ESU are back to pre-pandemic levels. Like many universities, ESU saw decreases in its student population due to the COVID-19 pandemic. But for the fall semester, new student enrollment has bounced back, according to ESU Interim President Kenneth Long.
"Our new student enrollment is up over last year by more than 40 percent," he said. "We are the public university of the Poconos. We're doubling down on our efforts to make sure we give opportunities to students within a 50-to-60-mile radius for a high quality, affordable education close to home. We're investing in the future of our community."
The under-construction University Center will be better able to accommodate those students. The building is designed to be energy efficient and environmentally friendly and ESU plans to apply for LEED certification – Leadership in Energy and Environmental Design – when it is complete.
Once the center is open, the university will demolish the existing University Center and current computing center and convert that area into green space that includes an amphitheater so students can congregate outside.
Among the project's green features will be an underground watering filtration system to take runoff water and store it to re-water the surrounding grass rather than diverting it into the sewage system.
The University Center will house an updated student bookstore and a new esports center. Other spaces are earmarked for an art gallery, a theater, student newspaper, radio station, student club offices, Veterans' Center and the Student Activity Association, as well as a commuter student lounge, career services, the multicultural/international center, LGBTQ center, student groups and other organizations.
As East Stroudsburg University has grown, so have the needs of its students.
"We went from roughly 2,400 students when the old building was built [in 1968] to more than 5,000 students," Long said. The electrical system of the old University Center couldn't handle the demand.
"For example, we have to limit the use of different food service equipment in the food court, such as grills and the pizza oven,  due to the outdated electrical system and building operating controls requiring on-site personnel to monitor and adjust," he said.
The new structure will be easier to navigate and have enhanced digital capabilities. It will be adaptable to many technological advances over the past three decades including cell phone reception. "In several parts of the current building, you can't get a signal," Long said. The new building will also include a single location for the university's information technology department.
The center will enable ESU to bring large functions back to campus. In the past, the university used the Keystone Room space for award ceremonies, celebrations of Martin Luther King Jr. Day, the President's Gala, the ESU Athletics Hall of Fame induction, new student receptions and other gatherings of more than 200 people.
But about five years ago, the University had to start holding many of those events off campus as the Keystone Room was taken offline. The new center will have a ballroom that can hold 900 people for lecture seating and 400 for banquets.
The project is expected to cost about $76.4 million and will be paid for partly with capital funding through the state. Other funding will come from existing student fees, a portion of which ESU has been setting aside for this purpose for several years, and retail services.
"Students pay student union fees and the students voted back in 2010 to increase that fee so an issuance of debt can be taken out to pay for this building," Long said. Rather than taking on new capital debt, the university will borrow from existing internal reserves and replenish those funds with the student fee.
While the University Center project is underway, the administration is having conversations about renovating Kemp Library and the Dansbury Commons dining hall, as well as several of its academic buildings – all without incurring any new debt.
"The Fine Arts building is getting a facelift in the front to make it more ADA accessible," Long said. ESU invites people from the community to attend its plays, concerts and other performances and greater accessibility will be key for senior citizens and many community members.
ESU is also expanding the video board in Eiler-Martin Stadium, which will make images easier to see and also broaden the types of events that can be held there.
Other upcoming improvements include a health sciences simulation lab in partnership with St. Luke's University Health Network and Lehigh Valley Health Network, which will create opportunities for students and the region's first responders to improve their medical skills.
In addition, a capital campaign is underway to build a stadium for the University's NCAA Division II men's and women's soccer programs, and intramural sports managed by the Student Activity Association.
"We're a university on the rise," Long said.
Before Covid, only about five percent of ESU classes were online and 95 percent were in-person. During the pandemic, those numbers flipped to majority online.
"As we approach an endemic world, we're looking at between 20-35 percent of our classes being accessible either directly, online or in a hybrid type format," Long said. "We know many of our students work. So we need to create opportunities where students can continue to work but also get an education. Students shouldn't have to make a choice between higher education and having a job."
---
---
---