ESU Senior Receives Grant to Study Compassion Fatigue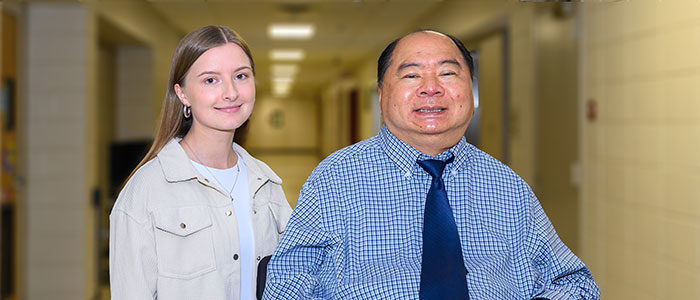 Posted by: Elizabeth Richardson on September 27, 2022, No Comments
East Stroudsburg University senior Alissa Tressler, a psychology major from Lake Ariel, Pa., and Jyh-Hann Chang, Ph.D., ESU professor of psychology recently received a Grant in Aid of Research from Sigma Xi. With the grant, Tressler and Dr. Chang will attempt to determine if the Compassion of Others' Lives – Short Form (COOL-SF) Scale can predict compassion fatigue in healthcare professionals who engage in direct patient care through the measurement and statistical analysis of healthcare professionals' compassion scores and compassion fatigue scores.
The study has the potential to predict compassion fatigue with a brief, innocuous 8-item scale and detect the prevalence of compassion fatigue in healthcare professionals. If the potential is fulfilled, the COOL-SF can be utilized to screen healthcare professionals for compassion fatigue to optimize patient-centered care. If compassion fatigue is identified in professionals, interventions can be offered, which supports healthcare policy and system reform that improves compassionate healthcare systems.
Since 1922, Sigma Xi awards undergraduate and graduate students grants to encourage hands-on learning, companionship between mentors and students, and scientific excellence through the Grants in Aid of Research (GIAR) program. Sigma Xi is a scientific research honor society of engineering and science founded in 1886. Today, Sigma Xi has over 60,000 members and 500 chapters in the United States, Canada, and other countries. As one of the oldest and largest organizations dedicated to science and society, Sigma Xi aims to honor excellence in scientific investigation and inspire cooperation among researchers in scientific and engineering fields. It is important to note that in 2021, Sigma Xi's GIAR program awarded a total of 213 grants, and among those 213 recipients, only 46 of them were undergraduate students and none of them were in the field of psychology.
Tressler is a member of the University's Honors Program and Dr. Chang's research group. As an active member of Dr. Chang's research group, she has assisted in three research studies and presented the research findings at the Eastern Psychological Association's Annual Conferences in 2021 and 2022. She expects to graduate in December 2022 and wishes to pursue her academic career to become a clinical psychologist.
---
---