New Artwork, Created by ESU Professors and Students, Installed at Innovation Center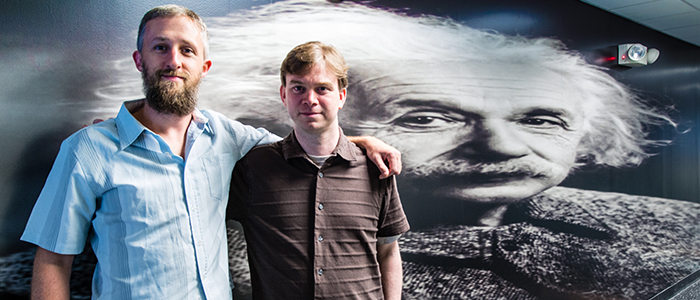 Posted by: admin on July 17, 2014, One Comment
Two East Stroudsburg University of Pennsylvania professors teamed up to create an eye-popping, anamorphic image of Albert Einstein that has been installed at the Innovation Center.
David Mazure, an ESU assistant professor of art, had the idea of creating an anamorphic image, which is an image that needs to be viewed from a certain vantage point to see it as it should appear; from any other viewpoint the image will look distorted.
The process to map the image to its transformed position is the perfect blend of mathematics and art. With an Entrepreneurship Across the Colleges grant between ESU's art and design and math departments, there was adequate funding to make the idea a reality. Jonathan Keiter, Ph.D., ESU assistant professor of mathematics, created the image using the program Mathematica. During the spring semester, ESU students learned about anamorphic art and did some measurements to see how an image is transformed. Students also learned the rigorous process of taking an idea from the conception stage to completed mural.
The image can be seen along the wall near the wet labs on the first floor of the Innovation Center, which is located at 562 Independence Road, East Stroudsburg.
---
---
---