Poster Project Spreads Message of Inclusion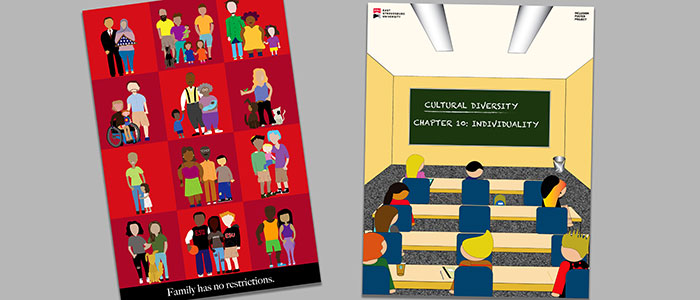 Posted by: Elizabeth Richardson on November 17, 2017, 2 Comments
For her poster in the East Stroudsburg University Inclusion Project, sophomore Chelsea Bacon created pictures of all sorts of families – interracial, same-sex, single parents – as well as an ESU family. She says it's about making people of different backgrounds feel like they belong.
"When you go into certain situations you feel excluded if your family doesn't look like the picture-perfect family," says Bacon, an art + design major from Easton.
Bacon's poster is one of 25 different designs by students in Professor David Mazure's Graphic Design I class. The students created posters with messages about the importance of inclusion that will be hung around campus this month. Mazure believes it's an especially timely project given the deep divide in the country over political and social issues.
"We typically do a poster project every semester so I thought it was a great way to engage the ESU community with an important social issue as well as to teach my students the necessary elements of poster design," Mazure said. "I really want this to spark awareness and possibly start deeper conversations about issues of inclusivity on campus. Every university should be having these discussions."
His students have been enthusiastic. Bacon said she hopes the posters will make people think.
"People need to push themselves out of their comfort zone sometimes and step back and look at what's happening," she said.  "Especially now it seems like we're more divided than ever and it's time to come together. We're trying to start small, with first our class coming together, and then our school, and then the community around us."
Sophomore Tia Clinkscales, an art + design major from Pittston, created a poster that shows a classroom with one forlorn child who is separated from everyone else.
"I want the picture to show that every day there are kids who are basically separated from everyone in the class because they are different or (they perceive that) somebody doesn't like them," said Clinkscales.
She's making the case for inclusion by demonstrating how heartbreaking it can be to be excluded and hopes it will encourage people to be kind to someone who is alone.
Mazure got the idea for the Inclusion Project from a poster exhibition on tolerance in Sarajevo, the capital of Bosnia and Herzegovina. Sarajevo had been the epicenter of violence 25 years ago when Bosnian Serb forces targeted Bosnian Muslims and Croatian civilians for ethnic cleansing, resulting in the deaths of about 100,000 people.
Mirko Ilic, a renowned designer and illustrator, invited many of the top designers around the world to submit a poster on the topic of tolerance for the Sarajevo project. The resulting 24 posters went on exhibition in that city in 2015.
ESU's student body has become increasingly diverse over the past decade and initiatives like the Inclusion Project are part of the effort to make sure people of all races, nationalities and backgrounds feel welcome.
"This is a wonderful project that combines important social issues in the context of artistic rendition and expression," ESU Provost Joanne Z. Bruno, J.D., said. "By displaying the final works in poster size across campus, we truly hope to stimulate discussion and understanding from different perspectives as to what inclusion means in 2017 and within the ESU and greater community."
For the Inclusion Project, Mazure put his students' posters across campus in unexpected locations in order to start conversations everywhere about the power of inclusion.
"This would not have happened without the support of the provost," he said. "She's actually funding the project and she's been awesome to work with."
The posters are being printed by And the Sign Says of Easton, owned by ESU graduate Jeff Kicska '93, who majored in fine arts.
"As an alumnus, I find it highly enjoyable to be included in the great work that is being done by professors and students of ESU," Kicska said. "I found this project to be the perfect opportunity for students to experience the type of design work that mimics what they may be doing once they graduate. The focus on inclusion is timely and important," he said. "The posters will be a reminder around campus that we are all citizens of the school, community, nation, and world."
---
---
---