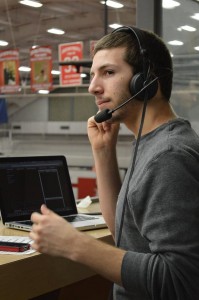 The Sports Department at 90.3 WESS FM is just another way to get involved at the diversified radio station here at East Stroudsburg University. If you have a strong passion for sports and have an interest in announcing sporting events that take place here on campus then the Sports Department might be the place for you. The department works hard to provide the most professional broadcasts to the surrounding community to give them an alternate way to listen to ESU Warriors athletics.
The Sports Department has been able to provide coverage of numerous basketball, football, baseball, and softball games throughout the years. The department is always looking to add new announcers to the broadcast team to give interested students the opportunity to gain experience in announcing sporting events. There is also a behind the scenes position for those who are more comfortable helping with the production aspect of the broadcasts.
Think you have what it takes to become a sports announcer? Want to gain experience in broadcasting sports if you are a Communication Studies Major or if you just like sports in general? Then stop by 90.3 WESS at the McGarry Communications Building to speak with WESS's Sports Director Bryce Kaufman.