ESU Grad Heading to Japan for Ph.D. in Marine Science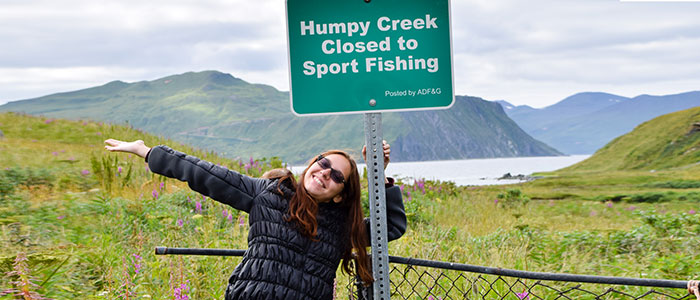 Posted by: Elizabeth Richardson on June 22, 2020, No Comments
Leah Bergman '19 got the news that she'd been accepted to a prestigious marine science doctoral program in Japan on June 11 at 9 p.m. when she refreshed the Kitasato University web site for the umpteenth time.
"I was right at my computer, ready for it, refreshing the page," Bergman says, recalling her nervousness. "What they actually posted on the web site – all in Japanese – was this is the foreign applicant that they are accepting. I couldn't quite believe it at first."
Bergman, of Coatesville, Pa., will start at Kitasato's Graduate School of Marine Biosciences near Tokyo this fall with a full scholarship for travel and costs for three years. This summer she is on track to obtain her master's degree in biology at East Stroudsburg University.
Her ESU advisor, James Hunt, Ph.D., biology professor and director of ESU's marine science program, says Bergman has the drive and dedication to pursue her doctorate half a world away.
"Leah is a hard worker who does not get easily frustrated by the inevitable challenges that always accompany research," he says. "Many people seem to think research is prescribed and formulaic. It can be when data are being collected and analyzed. But before that, there is a creative process that must happen. Leah has a knack for that process. She also takes the initiative and I believe she genuinely enjoys learning new things. That combination of curiosity and determination is rare."
Bergman knew she wanted to pursue a doctorate in marine science and got the idea from Hunt to apply to the Ph.D. program at Kitasato. Hunt worked as a researcher for the Japan Agency for Marine-Earth Science & Technology (JAMSTEC) from 1996 to 2001 and has been publishing research papers for years with Dr. Dhugal Lindsay, an associate professor at Kitasato and a research scientist with JAMSTEC.  Dr. Lindsay will be Bergman's doctoral advisor at Kitasato.
Much of the data supporting Bergman's master's thesis comes from research she did in the summer before her junior year at ESU, when she joined Hunt on a voyage on a JAMSTEC research vessel. Funded by the Japanese government, JAMSTEC scientists were looking at the effects of climate change on marine life in the Bering Sea around the Aleutian Islands, which is a biodiversity hotspot off the coast of Alaska.
"We basically dropped an underwater camera off the back of the boat as it was moving and we used that to film organisms in their natural environment," Bergman says.
That trip solidified her determination to make marine biology her life's work. But even earlier, she had shown a passion for the science when she got a grant from the Barnegat Bay Foundation to study flat fish, such as flounder, at the Jersey Shore.
She sees researching marine life as important not just for protecting the health of an ecosystem but also for preserving an important source of food.
"A lot of the fish that I'm studying for my graduate work are some of the most commercially important species in the world," Bergman says. "Alaska has some of the largest fisheries in the U.S. If you've ever seen 'The Deadliest Catch' this is where they go to film that. That's right where I did my research."
"There's so much more you can learn from actually watching them in their environment than killing them," she says.
Such research can help assess the state of oceans and take stock of certain species of fish. On the three-week JAMSTEC voyage that Bergman and Hunt were on in 2017, researchers saw only one of a certain kind of heavily-fished halibut that is on a list of near-threatened species.
"We just did this very extensive study looking at what was down there and we only saw one of them," Bergman says.  "Maybe it's time to go back and evaluate them."
But for now, Bergman is ready to set sail for her new adventure in Japan.
Read more about Begman's research trip a JAMSTEC research vessel.
---
---