Graduate Students Reflect on Time in Classroom Abroad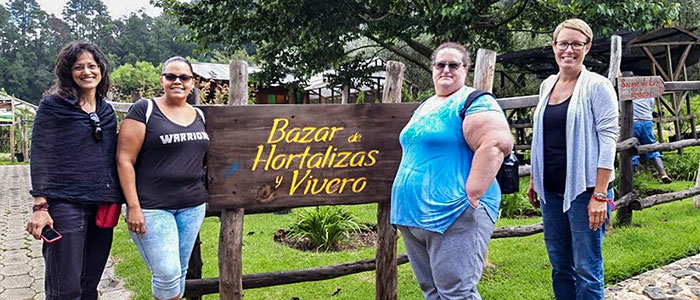 Posted by: Elizabeth Richardson on August 21, 2019, No Comments
For one week in July, three East Stroudsburg University graduate students along with their professor worked in Sagrado Corazon de Jesus, a private k-12 school in Guatemala City, Guatemala. The hands-on experience abroad fulfilled the requirements for a course in comparative education. Rebecca Carbin of Stroudsburg, Pa., Danielle Cloward of East Stroudsburg, Pa., and Migdalia Lira of Easton, Pa. were led on the study abroad experience by Beth Rajan Sockman, Ph.D., professor of professional and secondary education and co-department chair. Through a range of new experiences, the students immersed themselves in the Guatemalan culture in order to have the opportunity to reflect on their own culture and education system.
For the first few days the students observed and collaborated with the teachers at Sagrado Corazon de Jesus. The teachers and students were warm, welcoming and proud of the hard work that they had done to create an innovative school in a developing nation where the middle class is in the minority. They discussed the similarities and differences between the education in Guatemala and the U.S. Some similarities included the struggle to keep students motivated, the need to create enough hands-on experiences, and the challenge to personalize learning so that each student could develop their personal gifts.
The differences helped the students appreciate their own educational system. For Carbin, who is working toward teacher preparation and a master's degree to become a biology teacher, noticed a contrast with gender difference in science classrooms. "We were working in an all-girls school. In their science classrooms the students were using local products to produce beauty creams. They had to design the packaging for the products they developed and come up with a marketing plan. It was very practical hands-on assignment," Carbin said. Later, the students would share their innovations with other women in farming communities as a way to encourage entrepreneurial economic development. Later in the trip, Carbin visited a boy's school for a short time, and "noticed that they were teaching engineering and computer science in their science classrooms," which prepare students for higher paying careers than creating consumer products. According to different cultural analyses, Guatemala is considered a more masculine society which often means particular careers are favored for men due to stereotypical roles. As a woman in a STEM profession, Carbin is keenly aware of the dangers of those stereotypes, and was pondering how challenging it was to break out of roles is some societies, particular in a developing nation.
Cloward, a Spanish teacher in the Panther Valley School District, noticed a very significant difference was the lack of special needs training. "It just doesn't exist. They don't have special needs students in their classrooms." There are no accommodations for the students with disabilities in the schools, since disabilities are rarely recognized. If disabilities are severe, then the children attend a different school. In the United States, the Individuals with Disabilities Act ensures that a free appropriate public education is provided to children with disabilities.  "In our culture, we believe that students who receive special education learn in the least restrictive environment. This means they should spend as much time as possible with peers who do not receive special education so that students can reach their potential. In the U.S., teacher preparation programs, are required to help teachers develop the skills to reach a diverse range of students. ESU students in teacher preparation value the way all students learn," Sockman said.
Lira, a Spanish teacher at Easton Area High School, found the evaluation system at Sagrado Corazon de Jesus of particular interest. "I would love to implement student evaluations to myself as a teacher. It would help me see what I am lacking in and what my students find interesting in the classroom." The teachers were also evaluated and critiqued by their supervisor and peer teachers on a monthly basis. "I believe this is a great practice in building great, reflective teachers."
Cloward speaks Spanish. For her, this trip was a way to brush up on listening skills and learn how other countries teach a second language. Carbin does not speak Spanish, and most of the teachers at Sagrado Corazon de Jesus didn't speak English. But, the students did and acted as her translator for the week. "The upper-level students were almost fluent in English," she said.  Students were expected to be fluent in both English and Spanish, unlike most of U.S schools where most students are monolingual.
There was a service learning component to the trip as well. There was a very large space that was not in use. "We were tasked with conceptualizing an ideal classroom space," Sockman said. "We became their 'think partners' to help them to do an Ideal Classroom Design, working with 13 teachers for one hour a day for four days. As a team we made observations, talked about teaching challenges, and the goals of the school." Together, ESU students and SCJ teachers, decided the space should be used as a second language room with many different learning stations using student-driven, hands-on learning. They envisioned a station for learning math in English, a library area with books written in English, and a station for a virtual classroom where they can communicate with U.S. schools. "One thing I noticed is the students struggled to remember scientific words in English. They asked me for help with words like "molecule" all week. I knew there had to be a science station in this second language classroom," Carbin said. Providing a hands-on space would be highly motivating to students since they would be able to choose their stations, and would be engaged in different experiences that would be interactive.
When they weren't in the classroom, the group enjoyed a trip to Antiqua, a World Heritage Site, hiked Payaca Volcano, and took a guided tour of Ixchime, ancient Mayan Ruins. "We went on this trip with the mindset 'this is not a vacation, we're here to work and learn.' And we did," Carbin said. "But, these tours were amazing," Cloward added. "We got to experience the culture outside of the private school setting, which was very different." They saw a Mayan priest perform a ceremony for the upcoming harvest and learned about the racial divide between the Mayans and the rest of the country. "It left me wanting to know more about education in public schools and more rural areas of the country," Cloward said.
The group rented an apartment while in Guatemala, and two chefs came to the apartment to teach them how to prepare a traditional Guatemalan dish. "As a Puerto Rican, I know the importance of keeping culinary traditions alive," Lira said. "I am excited to take this experience and this meal and share it with my family and my students."
They all agreed, the trip was one they will remember forever, filled with experiences that will help them professionally and moments that will stick with them in their personal lives.
For more information about this trip, and future trips to Guatemala contact Dr. Sockman at 570-422-3621 or email bsockman@esu.edu.
---
---